Cas de tératologie.
---
Robin, Charles-Philippe, 1821-1885.
Journal : Revue photographique des hôpitaux de Paris ; vol. 1.

Paris : Adrien Delahaye, 1869.

Description : [3 l. pl.], 113-114 p. ; ill.: 3 photo. ; 24.5 cm.

Photograph : 3 leaves of mounted albumens.

Subject : Teratology — Dipygus malformation.

Notes :


Author caption: "Ch. Robin, Professeur à la Faculté de médecine de Paris."
Medical degree, Paris, 1846.
Agrégation, 1847.
Nominated, Académie impériale de médecine, 1858.
Charles Robin chair of histology, Faculté de médecine de Paris, 1862.
Cofounder, with Émile Littré, Société de sociologie, 1871.
Director, marine and zoological laboratory at Concarneau, 1873.
With Littré, published the 12th edition of Nysten's, "Dictionnaire de médecine"(GM-6802).
Eponym: Virchow-Robin spaces.
Photo caption: "Planche XXI — Cas de Tératologie."
Photo caption: "Planche XXII — Cas de Tératologie."
Photo caption: "Planche XXIII — Cas de Tératologie."
V. intra: Maurice »».
V. intra: Bechtinger »».
Index Medicus: 10904231430.
---
Plates 22 and 23 show front and back views of a young girl with a sweet countenance, her hair garlanded by flowers, but whose lower extremities are made monstrous by two additional parasitic legs. There is no indication of her name, but this is definitely a reverse image of Blanche Dumas who was born in Segry, department of Indre, and can be identified by the two supernumerary nipples on her abdomen. Plate 21 shows a similar dipygus malformation with the double genitalia and single supernumerary leg in a male subject. For a published photograph of Blanche as an older woman see Bechtinger, A female monstrum; two complete and separate vulvæ and vaginæ; four mammæ; three legs (vide intra »»).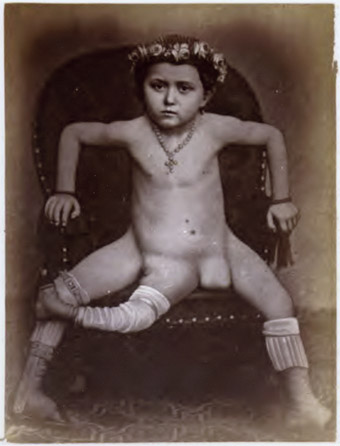 ---

©All rights reserved.