Note sur un monstre humain femelle à trois membres pelviens. D'un genre et d'une famille tératologiques encore incertains.
---
Maurice, Étienne-François, 1815-1885.
Saint-Etienne : J. Pichon, 1877.

Description : tp, [3]-30 p., [1 l.] pl. ; ill.: 4 phots. ; 21.2 cm.

Photographs : 1 albumen mounted to card, a composite of four views of the subject.

Photographer : Alphonse J. Liebert (1827-1913).

Subject : Terata — Dipygus malformation.

Notes :


Author caption: Par le docteur, E.-F. Maurice.
Medical training, l'Ecole de Médecine de Lyon.
Medical degree, Paris, 1840.
Physician to the Bureau de bienfaisance, Saint-Etienne, 1843-83.
Founder and president, Société de médecine de Saint-Etienne et de la Loire.
Secretary, Association de Prévoyance et de Secours mutuels, 1859-1884.
Honorary president, Association de Prévoyance et de Secours mutuels, 1884.
Offprint from: (1872-75) Annales de la Société de Médecine de Saint-Etienne et de la Loire, 3rd series, vol. vi.
Journal article furnished with two photographic views (unverified).
Rare, one copy located by Worldcat.
Photo caption in negative: Blanche Dumas, [illegible] 1860, Segry, (Indre).
V. intra: Robin »».
V. intra: Bechtinger »».
Index Medicus: 10807241310 (offprint), 10904021350.
---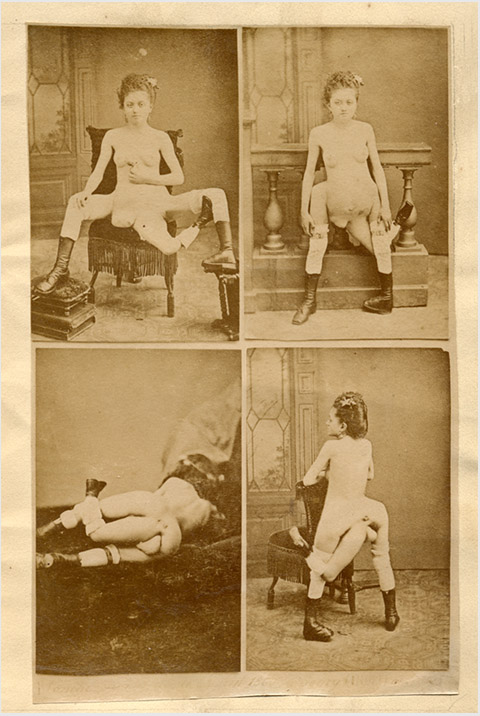 Blanche Dumas, whose birth defect is the subject of this paper, was a six year old in 1866 when she attended a fair in Liege and attracted the appanage of medical science for the first time. She received certificates of examination from Dr. Theodor Schwann (1810-1882) of the University of Liege, and Dr. Jean-Joseph Crocq (1824-1898) of the University of Brussels, who each referenced different congenital malformations within the Geoffrey Saint-Hilaire classification of monsters. Schwann believed that Blanche Dumas represented the double pelves of a parasitic twin, monstres doubles autositaires, whereas Crocq saw a dipygus malformity, monstres doubles parasitaires à la famille des polyméliens et au genre pygomèle, the interjacence of an abnormal pelvis within the bone structure of a normal pelvis. Their arguments were covered in a paper by Dr. Eugène Charlier titled, Observation d'un enfant vivant double inférieurement à partir du bassin...etc. (1873, "Mém. Soc. roy. d. sc., Liége." S. 2, v. 3; pp. 97-112). Dr. Maurice seems merely to be reciting much of Charlier's material, but unlike Charlier, he does not take sides.
---

©All rights reserved.