A female monstrum; two complete and separate vulvæ and vaginæ; four mammæ; three legs.
---
Bechtinger, Joseph Nicholas, 1835-
Journal : Annals of gynæcology ; vol. i.

Boston : Rockwell & Churchill, 1887-1888.

Description : [1 l.] pl., 469-470 p. ; ill.: 1 photo., 23 cm.

Photograph : Half-tone reproduction.

Subject : Terata — Dipygus malformation.

Notes :


Author caption: BY DR. J. BECHTINGER, PARA, BRAZIL.
Photo caption: Plate IV. Female Monstrum. Two complete and separate vulvæ and vaginæ; four mammæ; three legs. See pg. 469.
Reprinted: Martin & Cushing (1890), Pathology and Therapeutics of the Diseases of Women. Boston: Cushing (p. 543).
Index Medicus: 21100411290.
---
IT is with great pleasure that we observe among our subscribers and correspondents a deep interest in the subject of teratology. Let it never again be said that the profession in America is not interested in purely scientific subjects. Possibly this branch of special study is in general, and as a whole, somewhat abstruse, but concretely presented in the form of a comely diplo-teratological female, it has aroused an amount of interest which we had never anticipated. Many correspondents have written in a somewhat sceptical vein, requesting information about, and especially a picture of, the corresponding three-legged and doubly endowed man, a photograph of whom was enclosed by Dr. Bechtinger when he sent the communication concerning the woman above mentioned, which was published in the July number. — Editorial extract from the November 1888 Annals.
• • •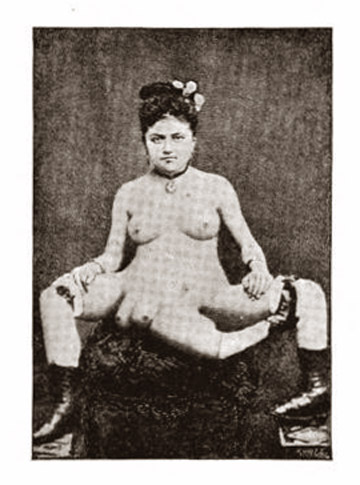 Photograph is a portrait of Blanche Dumas whose image first graced the pages of Revue photographique des hôpitaux de Paris in 1869, illustrating a paper written by Charles Philippe Robin titled, Cas de tératologie (vide intra »»). Doctor Bechtinger was a perpatetic, a polyglot, and a restless scholar of the world. An amusing anecdote of his photographic excursion to the leper colony of Molokai can be found in Joseph W. King's, A tourist photographer's reminiscences (Scovill, 1887, vide intra »»).
---

©All rights reserved.