Anomalie des reins, des bassinets et des artères rénales.
---
Liouville, Henri, 1837-1887
Journal : Revue photographique des hôpitaux de Paris ; vol. 4.

Paris : Adrien Delahaye, 1872.

Description : [1 l. pl.], 182-183 p. ; ill.: 1 phot. ; 24.5 cm.

Photograph : mounted albumen.

Subject : Kidneys — Fusion anomalies.

Notes :


Author caption: Par le Docteur Henry Liouville.
Biographical information, vide intra.
Photo caption: Planche XVII—Rein Unique.
Index Medicus: 10703911340.
---
Les reins sont sondés sur la ligne médiane par leur extrémité inférieure présentant la forme d'un fer à cheval à concavité supérieure. (Voy. Planche XVII). La portion de tissu rénal qui se trouve à la partie médiane et qui unit les deux reins était située au niveau de la troisième vertèbre lombaire, recouvrant en partie la deuxième.—Page 182.
• • •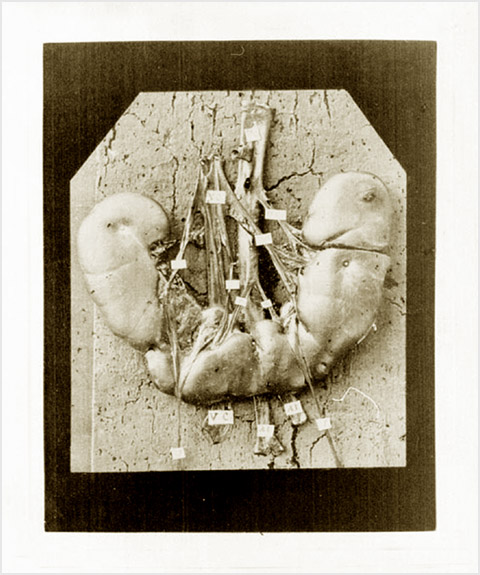 The photograph illustrating this paper shows a beautiful preparation of a horseshoe kidney, the first photograph published for this anomaly. The subject was a 30 year-old male who died from pulmonary tuberculosis. No renal pathology was observed.
---

©All rights reserved.