Paraplégie datant de la première enfance.
---
Ball, Benjamin, 1825-1893.
Liouville, Henri, 1837-1887
Journal : Revue photographique des hôpitaux de Paris ; vol. 4.

Paris : Adrien Delahaye, 1872.

Description : [1 l. pl.], 6-11 p. ; ill.: 1 phot. ; 24.5 cm.

Photograph : mounted albumen.

Subject : Skeletal muscles — Infantile Paralysis.

Notes :


Author caption: Observation par les Drs. Ball et Liouville.
Photo caption: Planche I—Paralysie Infantile, Forme Paraplégique.
Index Medicus: 11004271730.
---
Celui-ci présente la déformation dite: pied bot varus équin des plus accusées, apparence du pied de Chinois (voy. Planche I); la jambe est fortement fléchie sur la cuisse et ne peut ètre éntendue: aussi le malade affirme bien qu'elle lui a rendu et lui rendrait moins de services que l'autre jambe, laquelle peut ètre étendue.
Le genou est moins déformé que le droit. Il n'y a pas de luxation. Pied Equin très-prononcé (voy. Planche I). Le malade marcherait sur l'extrémité des orteils. La face dorsale forme une convexité en avant. Quoique bien fortement atteinte, la jambe gauche est moins complètement compromise que la droite.—Page 10.
• • •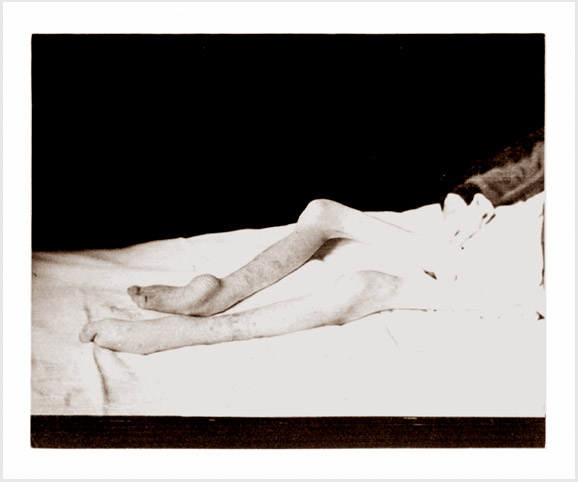 Liouville icterus appears in old dictionaries of medical eponyms but the term is now obsolete. There are no other eponyms associated with his name. Liouville interned with Vulpian in 1867 and was nominated Professor Agrégé, Faculté de médecine in 1875. He cofounded the pathology laboratory at Hôtel-Dieu and was installed as the first director, but most of Liouville's activities were in the political realm. He entered Parliament in 1877 where he was a leader of the Groupe Médical Parlementaire and was a member of the Comité consultatif d'hygiène. Liouville married Charcot's stepdaughter in 1878.
The photograph shows the severely deformed legs of a 45 year-old male subject, admitted for tuberculosis.
---

©All rights reserved.