Flexion permanente des deux membres inférieurs, reconnaissant pour cause probable une attitude longtemps prolongée; intégrité des articulations des muscles et du système nerveux.
---
Gombault, François-Alexis-Albert, 1844-1904.
Journal : Revue photographique des hôpitaux de Paris ; vol. 4.

Paris : Adrien Delahaye, 1872.

Description : [1 l. pl.], 226-229 p. ; ill.: 1 phot. ; 24.5 cm.

Photograph : 1 mounted albumen.

Subject : Lung — Pulmonary sclerosis.

Notes :


Author caption: par Gombault, interne des hôpitaux de Paris.
For biog. content vide intra: Gombault.
Photo caption: Planche XXI—Contracture Des Membres Inférieurs.
Index Medicus: 10404421420.
---
L'attitude de la malade a quelque chose de bizarre (voy. Planche XXI)! Les cuisses fléchies à angle droit sur le bassin, les talons au niveau des fesses, elle demeure constamment accroupie, soit dans son lit, soit sur un fanteuil.—Page 227.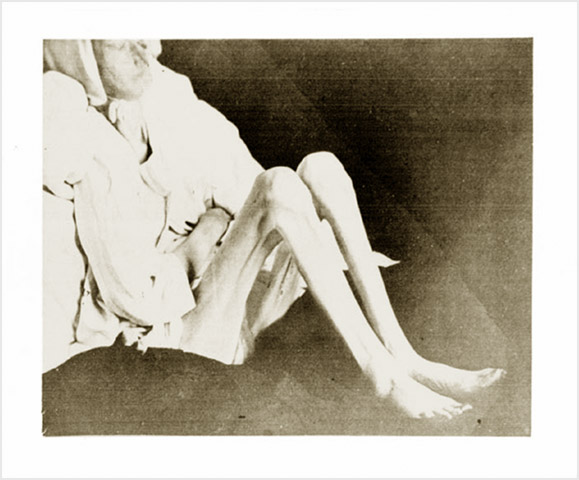 Gombault's patient was a 55 year old female who married at age 14 and bore 4 children. At age 20 she had the first of many episodes of a productive pneumonia that eventually resulted in chronic dyspnea. Her only respiratory relief came by sitting upright in bed, both days and nights, with her knees drawn up level with her chin as seen in the photograph. Eventually a wasting contracture took hold of her legs and she was unable to extend them. Autopsy revealed no spinal or medullary lesions, no heart lesions, and no caseation or granulation in lung tissue. However, both lungs were slate colored, smooth and elastic, with anfractuous cavities. Microscopic examination led Gombault to pronounce a unique (i.e. no comorbidities) sclérose pulmonaire.
---

©All rights reserved.