Esportazione dell' utero dalla vagina; narrazione di un caso seguito da decesso e studii sulla operazione.
---
Calderini, Giovanni, 1841–1920.
Milano : Pietro Agnelli, 1882.

Description : [1 l.] pl., [1]-55 ; ill.: 2 phot., tbls. ; 23 cm.

Photograph : 2 dyed albumens, mounted on one card — left anterior and right posterior views of a dissected uterus.

Subject : Uterus — Excision.

Notes :

Extract: Annali di ostetricia, ginecologia e pediatria, vol. iv., 457–509 p.
Journal paper not illustrated.
Author caption: del Prof. G. Calderini, Direttore del R. Istituto ostetrico-ginecologico di Parma.
For biographical notes see: Calderini.
Includes bibliography and review of the literature.
Photo caption (holograph): p. 20, lin. 9. Esportazione dell' utero dalla vagina. G. Calderini.
See english translation (part 2) by Vecchi, San Francisco Western Lancet, vol. 12, p. 195–204.
Scarce, no copies in Worldcat.
Index Medicus: 10902581220 (journal).
---
Nello stesso giorno fu fatto fotografare in due posizioni diverse, in modo che in una si vedesse la faccia anteriore, il fianco destro [sinistro] ed il fondo, nell'altra la faccia posteriore, il fianco destro ed il muso di tinca.—Page 20.
• • •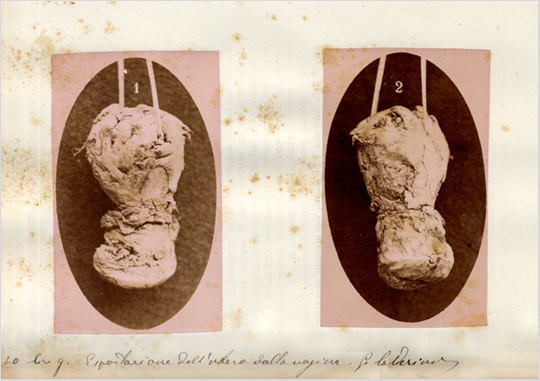 ---

©All rights reserved.