Una cretini ed una microcefala nell' Istituto ostetrico di Parma; nota clinico-anatomica.
---
Calderini, Giovanni, 1841–1920.
Milano : Pietro Agnelli, 1882.

Description : [1 l.] pl., [1]-19 ; ill.: 2 phot., tbls. ; 23 cm.

Photograph : 2 dyed albumens, mounted on one card.

Subjects : Head — Microcephaly ; Thyroid — Cretinism ; Pelvic basin — Comparative morphology.

Notes :

Extract: Annali di ostetricia, ginecologia e pediatria, vol. iv., 178-194 p.
Journal paper not illustrated.
Author caption: del Prof. G. Calderini.
Medical degree, University of Turin, 1864.
Assistent, Ospedale Oftalmico & Infantile, Turin, 1866.
Assistent, Maternity clinic, University of Turin, 1868.
Coroner, University of Turin, 1872.
Professor, University of Parma, 1873.
Director, Department of obstetrics & gynecology, University of Parma, 1879-1894.
Professor, Obstetrics and gynecology, University of Bologna, 1895.
Dean, University of Bologna, 1905.
Co-founder, Gazzetta delle Cliniche di Torino.
Co-founder, Annali di Ostetricia e Ginecologia.
Founder, editor, Lucina.
Scarce, no copies in Worldcat.
Index Medicus: 10902581220 (journal).
---
La indicazione della statura anḍ perduta. Peṛ possedendosi la fotografia della microcefala, ritratta insieme ad una servente che servi di termine di confronto, si fece una equazione e si ricavo essere la statura di metri 1,30.—Page 11.
Conservo le fotografie della cretina, della microcefala e dello scheletro del microcefalo del museo di anatomia patologica. La fotografia della cretina mi fu cortesemente procurata dal Dott. Fochi, medico del Manicomio di Colorno.—Page 19.
• • •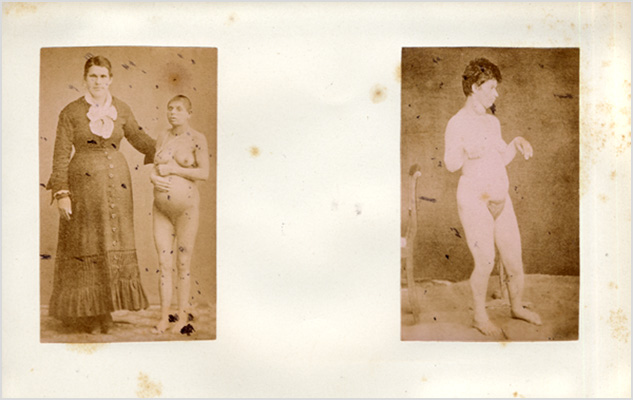 Fascinating anatomical and behavioral study comparing two women, one a cretinoid 23 year-old and the other a microcephalous 31 year-old, who were both raped and bore premature babies. The subjects delivered their babies at the Parma Obstetrics Institute in 1880 and 1881, neither infant survived. Height of the microcephalus was lost, but an estimate of four feet 3 inches was calculated from the photograph and the known height of the attendant standing next to her. The photograph of the cretin was provided by Camillo Fochi, director of the Manicomio Asylum in Colorno.
---

©All rights reserved.