Du traitement des déviations rachidiennes par les corsets platrés.
---
Gevaert, Gustave, 1862-1905.
Bruxelles : H. Lamertin, 1889.

Description : [i-viii] p., [1]-8 p., [1]-169 p., [8 l.] pl. ; ill.: 5 phot., 3 lith. ; 25.5 cm.

Photograph : 5 sepia-toned albumens, mounted to cardstock.

Subject : Spine — Deformity ; Treatment.

Notes :

Author caption: Par le Dr. Gustave Gevaert, aide de clinique à l'hôpital Saint-Pierre.
Medical degree, Brussels.
Son of the Belgian musicologist, Francois-Auguste Gevaert (1828-1908).
Thèse d'agrégation présentée à la Faculté de médecine de Bruxelles.
Includes 8 pages of bibliography.
Inscribed: A Monsieur le docteur Jacques. Hommage de l'auteur G. Gevaert, Février 18, 1889.
Rare, 4 copies located by OCLC.
Index Medicus: 11304561490, 20601951160.


---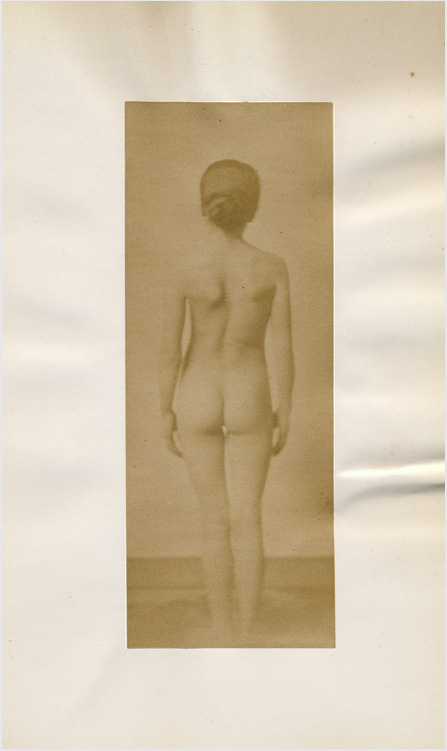 No photographer's name is credited and considering the unintended spookiness of the images – what looks like fading is the result of amateurish technique – it is probable Gustave Gevaert took the photos. Medicine was a second career for Gevaert whose first accomplishments were in botany. He coauthored with Leo Errera (1858-1905) a monograph on heterostyly in flowering primulas (1878). For this thesis of aggregation, he writes on appliances used for treatment of curvature of spine in tuberculosis and idiopathic scoliosis with particular emphasis on Sayre's system (v.: Sayre). A photograph of Gevaert's device, a Sayre plaster corset modified with laces, faces page 100 (v.: corset). Gevaert wrote again on the Sayre corset in 1898, with new information provided by xray technology.
---

©All rights reserved.