Spinal disease and spinal curvature:
their treatment by suspension and the use of the plaster of paris bandage.
---
Sayre, Lewis A. (Lewis Albert), M. D., 1820-1900.
London : Smith, Elder, & Co., 15 Waterloo Place; 1877.

Philadelphia : Lippincott.

Second Printings : London ; Smith, Elder & Co. / Philadelphia ; J.B.Lippincott & Co., 1878.

Description : ix, [1 l.] blank, 121 p. ; ill., [10] leaves of plates (4 fold.), 19.5 cm.

German Edition : Die Spondylitis und die seitlichen Verkrümmungen der Wirbelsäule und deren Behandlung durch Suspension und Gypsverband ; Leipzig, F. C. W. Vogel, 1883 ; Deutsch herausgegeben von J. H. Gelbke.

Photographs : 21 mounted woodburytypes, folding leaves.

Photographers : varia ; John Jabez Mayall, O. G. Mason.

Subject : Orthopedics, Spinal Diseases, Spondylosis.

Cited :

Cordasco, 70-3214.

Garrison & Morton, A Medical Bibliography ; 4344.

Burns, Stanley B., M.D., Early Med. Photog. in America ; pp 1234-1235.

Rutkow, Ira M., & Stanley B. Burns, photohistorian American surgery, an illustrated history ; Philadelphia: Lippincott-Raven Publishers, c1998 ; page 185 :
This book is a landmark in American medical photography, since it was among the earliest texts to contain actual mounted photographs. The illustrations are remarkable for their artistic quality and were taken in both New York City and London.
Valentin, Gesch. d. Orthopädie, S. 276 :
L. A. Sayre (1820-1900) war Prof. der orthopädischen Chirurgie an dem von ihm gegründeten Bellevue Hospital in New York. Besonders bekannt wurde er durch seine Behandlungsmethode bei Scoliose, bei der er das später nach ihm benannte Gipskorsett empfahl.
Taureck, Renata ; Die Bedeutung der Photographie für die medizinische Abbildung im 19. Jahrundert ; p 208 :
The photos in this work very clearly demonstrate the various therapeutic devices applied by Sayre as well as the successful results accomplished by the treatments.
In four sequences of three or four photographs apiece, some of which were made by the famous professional photographer John E. Mayall [sic], Sayre himself is usually in the picture as he demonstrates his method of treatment for scoliosis. In addition, all four patients are photographed before and after their treatments. A German translation of the work came out in Leipzig in 1883 under the title, "Die Spondylitis," adapted by J. H. Gelbke. The pictures are the same as in the original English edition, albeit here reproduced as four collotype plates.


Notes :
The photographs in the German edition are collotypes.
Cordasco records only 19 plates.
Rutkow refers to the photographs as albumens.
---
Sayre chose to publish this photographic masterpiece on the two countries where he practiced orthopedic surgery, presenting cases and testimonials from his patients in both England and the United States. Of the 21 woodburytype images, the most affecting are the two of Mabel Gooding, the 10 year old daughter of Dr. J. Gooding of Cheltenham England. The girl was suffering from Pott's disease of the cervical and upper dorsal vertebrae which developed after a fall when she was 19 months old. The deformity had become so severe, Sayre refused at first to treat her, however the child begged Sayre to "try" with such imploring looks that at length he affixed her to his suspending tripod with very favorable results. Dr. Gooding then arranged for the plaster jacket to be applied on July 25, 1877 at Guy's Hospital before a company of his colleagues. The father's testimonials which followed express his deep gratitude for the Sayre therapy which he credits with the cure of Mabel's paraplegia and immobility. There are 21 images, all of them woodburytypes although Cordasco lists only 19. The four folding plates are mounted with 15 images of procedural tableaus, depicting the operations of suspension and application of the plaster jacket. Extraordinary and lavish monograph by the father of American orthopedic surgery!
Although the photos are not credited, it is probable that the two images of Mabel Gooding were made by Mayall and the other 19 images were made by O. G. Mason in New York.
The following images are linked to enlargements: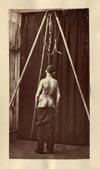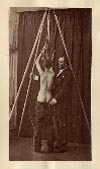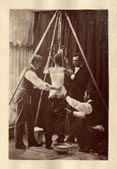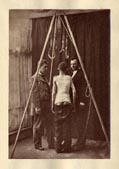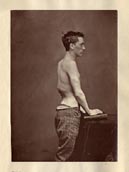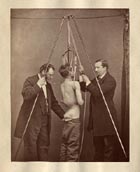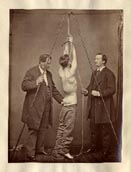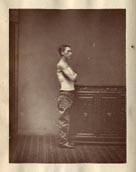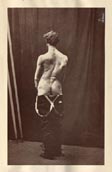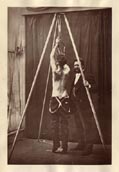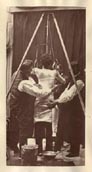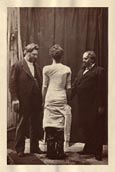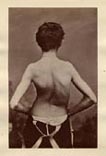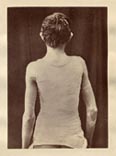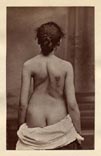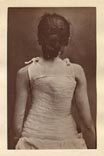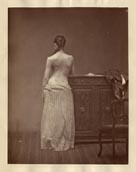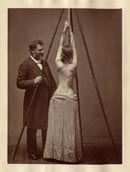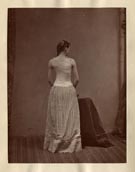 ---

©All rights reserved.