Traité de l'acide phénique.
---
Déclat de Neboud, Gilbert, 1827-1896.
Paris : Chez Lemerre, 1874.

Description : bt, frontis., tp, a-k, i-xlviii, 1-1070 ; ill.: 1 phot. ; 18.2 cm.

Photograph : before and after portraits, photoglyptie mounted on printed leaf.

Photographer : Gilbert Déclat de Neboud.

Subject : Skin ; tongue ; mucosas — Lesions ; carbolic acid.

Notes :


Author caption: Par le Docteur Déclat.
Biographic notes, v. intra: Déclat »»
Includes bibliographical content.
Photo captions, v. infra.
Index Medicus: 10306361080, 20101031130.
---
J'ai fait photographier la lèvre de M. Roy avant et après mon traitement; les deux figures peuvent donner une idée du résultat obtenu. Je dois dire aussi que le docteur Gaudin, frappé de ce qu'il avait vu, n'hésita pas à publier, dans le Courrier médical, deux articles sur l'efficacité de mon traitement dans les cas de cancroïdes.— Page 1021.
• • •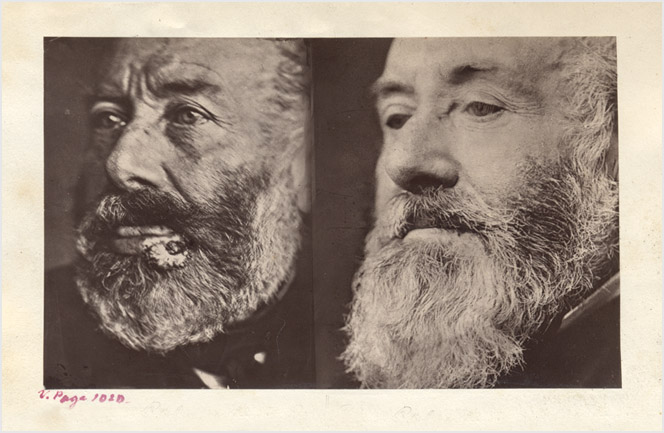 Photo caption left: Le 14 Jun, 1869, chez Mr. Ricord. M. Ricord après examen:, "Je serais bien aise de voir cela guéri:"
Photo caption right: Le 10 Octobre, 1869. Renvoyé guéri chez Mr. Ricord.
• • •
This is a compilation of Déclat's monographs that were published by Lemerre from 1872-1873, including the following titles:

• De la curation du charbon, de la cocotte et des principales maladies qui sévissent sur les boeufs, les moutons, les chevaux et les cochons.
• De la curation de quelques-unes des maladies les plus fréquentes ou les plus graves de l'espèce humaine au moyen de l'acide phénique.
• De la curation des maladies de la peau, spécialement des maladies comprises sous le nom de dartres, à l'aide de la nouvelle médication phéniquée.

However, the tome should be considered a second edition to Nouvelles applications de l'acide phénique en médecine et en chirurgie...etc. published in 1865. Déclat published several more monographs on carbolic acid in the years that followed, but only this edition and the first, Nouvelles, contain photographs.
---

©All rights reserved.