Nouvelles applications de l'acide phénique en médecine et en chirurgie, aux affections occasionnées par les microphytes, les microzoaires, les virus, les ferments, etc.
Ouvrage orné de cinq photographies.
---
Déclat de Neboud, Gilbert, 1827-1896.
Paris : Adrien Delahaye ;
London : Hippolyte Baillière ;
Madrid : C. Bailly-Baillière, 1865.

Description : [1 l.] frontis., [i]-xviii p., [19]-208 p. ; ill., 6 phot. ; 24 cm.

Photograph : printed leaf with six mounted albumens.

Photographer : Gilbert Déclat de Neboud.

Subject : Skin ; tongue ; mucosas — Lesions ; carbolic acid.

Notes :


Author caption: Par Le Docteur G. Déclat.
École de service de santé militaire, Strasbourg, 1849.
Interned, Val-de-Grâce, 1852.
Publisher of La médecine des ferments.
Adapted edition: (1868) Observations sur la curation des maladies organiques de la langue. Paris: Delahaye »».
1868, adapted edition, printed without photographs.
Photo captions: v. infra.
Index Medicus: 10100751310, 10306361030.

Captions to the photographs:
M. Poulat. Cancroïde de la langue datant de 4 ans. (15 septembre 1864.)
M. Poulat. Cancroïde guéri de la langue. (Profondes cicatrices.) (25 juillet 1865.)
Mme Dubert. Lupus du visage datant de 24 ans. (4 mai 1865.)
Mme Dubert. Lupus du visage datant de 24 ans. (1er septembre 1865.)
Cancroïde ulcéré de la langue datant de 8 ans. (13 janvier 1865.)
Cancroïde guéri de la langue. (Profondes cicatrices.) (20 septembre 1865.)
---
Une peinture exacte et faite par un homme du plus grand talent pouvait seule donner une idée juste de la maladie à cause dos teintes et des dispositions dont la photographie ne pouvait rendre compte. Je joins à ces deux dessins une épreuve photographique portant la date du 25 juillet et représentant la langue du même malade complétement guérie et revenue à son état naturel. On peut reconnaître sur cette épreuve la trace des anciennes ulcérations; elles sont aujourd'hui remplacées par de profondes cicatrices. (V. la planche).—Pages 59-60.
Mme. Dubert s'est présentée pour la première fois à ma consultation le 4 mai 1865. II est presque impossible de décrire l'état dans lequel j'ai trouvé cette malheureuse femme. J'ai eu recours à la photographie, qui, malheureusement, n'a pu donner qu'une idée des reliefs produits par les croûtes et l'épaississement du derme : qu'on se figure une écorce de bois empreinte de végétations nombreuses et multicolores recouvrant tout le visage d'une femme de trente-cinq ans, grasse et d'un tempérament très-lymphatique.—Page 98.
• • •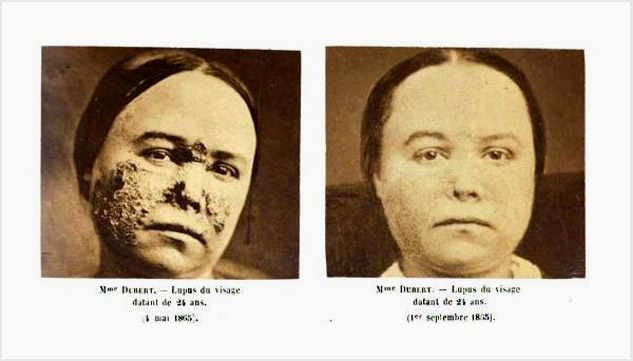 One obituary described Dr. Déclat as a droll man, small in stature, who was a close friend and personal physician to Alexandre Dumas (1802-70). After Dumas died, Déclat salvaged one of the distinguished author's notebooks, containing writings that were subsequently included in the posthumous Dumas title, Grand dictionnaire de cuisine, edited and published by Alphonse Lemerre in 1874. Déclat's formulas for carbolic acid appear in the appendix of this work.
Déclat was an insistent and prolific crusader for the greater acceptance of carbolic acid as an antiseptic in the maternity wards and for the treatment of diseases, including typhoid, and as the enemata for a host of wounds and lesions almost without exception. Carbolic acid was already known to cure canker sores, but he was the first to recognize its antimicrobial potency, predating Lister's advocacy by nearly a decade and Pasteur's by two years. In fact, James Simpson had read Déclat's monograph and denounced Lister, a former student, for plagiarism (Gaillard's medical journal, v. 32, p. 342). Déclat's first public demonstration took place at Maison Frères Saint-Jean-de-Dieu in Paris on November 30, 1861, for which he used his phenol compound to treat a case of intractable gangrene. Witnessing the demonstration were Drs. Gros and the surgeon Jules Germain François Maisonneuve (1809-1897). At the time, it was thought that hospital infections came from poisonous compounds generated in wounds that were exposed to air and Masonneuve had devised an elaborate vacuum apparatus to maintain aspiration continuelle under the surgical dressings of his patients. Impressed by Déclat's demonstration, Maisonneuve introduced carbolic acid into his practice at Hôtel-Dieu.
---

©All rights reserved.