A case of monstrosity; multiple pregnancy.
---
Khory, Rustomjee Naserwanjee, 1839–1904.
Bombay : Bombay education society's press, 1885.

Journal : Transactions of the Medical and Physical Society of Bombay ; n. s., no. vii.

Description : 15–21 p., [1 l.] pl. ; ill.: 2 phot. ; 22 cm.

Photographs : 2 albumens mounted on 1 leaf, full frontal views of the clinical subject.

Photographer : attributed by the Cabinet to Kanoba Ranchoddas Kirtikar (1849-1917).

Subject : Terata — Thoracopagus parasiticus.

Notes :

Author caption: By Dr. R. N. Khory.
Licentiate in Medicine, Bombay University, 1864.
Licentiate of the Royal College of Physicians, 1870.
Medical degree, Bruxelles.
Dean, Faculty of Medicine, Bombay University.
Honorary Physician to the Jamsetjee Jeejeebhoy Hospital.
Author (1887), Bombay Materia Medica and Therapeutics.
Index Medicus: 21100451510.
---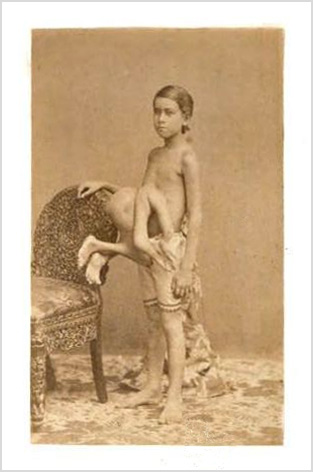 The first published portraits of Lalloo, age 12. Three years later, he left India for London, where he was examined by members of the Pathological Society. Drs. John Bland Sutton (1855-1936) and Samuel George Shattock (1852-1924) coauthored the report, relaying much of the substance from Khory's paper, including chromolithograph reproductions of the photographs (Tr. Path. Soc. Lond., v. 39, p. 427). Woodcut versions also appeared in the literature at the time.
The name of the photographer is not credited. Any number of the physicians in Dr. Khory's circle could have been responsible for the photographs, including the author himself. A very close colleague was Surgeon-Major Kanoba Ranchoddas Kirtikar (1849-1917), who contributed the plate illustrating Dr. Mackintosh Collie's paper on facio-brachial monoplegia, the only other photograph published in this series of the Transactions (v. Collie). Both men were professors at Grant Medical College, and both published important monographs on their country's flora and materia medica.
It is possible—and again this is speculation—that the photos were taken by Surgeon-General Wellington Gray (1841-1925), who served in the Bombay Medical Service from 1866-93. Outside of his medical duties, Dr. Gray was a prolific amateur photographer and served as president of the Bombay Amateur Photographic Society. At a meeting of the Medical Society that took place on August 6, 1886, Dr. Gray exhibited a number of his clinical studies, and offered to take photos of any suitable cases for the other members. He was quoted, "..that he hoped to show more of such photos at future meetings. He had been led to study and take up photography by seeing the great loss there was of valuable cases suitable for photograph. A few cases only having been heretofore preserved by photography on account of the expense of employing a paid photographer." (Tr. M. & Phys. Soc. Bombay, no. 10, p. iv).
---

©All rights reserved.