Photogramme zur Ontogenie der Vögel.
---
Kupffer, Karl Wilhelm, 1829-1902 ; Benecke, Berthold-Adolph, 1843-1886,
Halle : E. Blockmann & Sohn, 1879.

Description : [1 l.] tp., [151]-196 p., [1 l.] pl., [15 l.] pl. ; illus: 1 lith., 90 phot. figs. ; 31.5 cm.

Photograph : 15 leaves of photographs mounted on printed boards, each with 6 figures (photograms) of the embryonic chick.

Photographer : Berthold-Adolph Benecke.

Subject : Spine — Morphogenesis.

Notes :

Offprint from: Nova acta Kaiserl. Leop. Carol. Deutsch. Akad. Naturf.; Halle, 1879, xli, pt. 1.
1. serie in 15 tafeln, nr. I-XV. Mit text von C. Kupffer. Eingegangen bei der Akademie den 23. märz 1879.
Author caption: C. Kupffer...
Medical degree, Dorpat University, 1854.
Appointed, chair of anatomy, Kiel University, 1866.
Appointed, chair of anatomy, Münich University, 1880.
Eponym: Kupffer cells in the lining of the blood channels of the liver (GM-552).
Author caption: ..und B. Benecke, Professoren in Königsberg in Preussen.
For biography vide: Benecke.
Photo captions: Kupffer u. Benecke: Zur Ontogenie der Vögel. Taf. I[-XV].
Each plate accompanied by tissue overlay with printed legends.
Includes lithograph drawing of the photographic apparatus used.
Index Medicus: 20202231160, 20808841010, 40203191200.
---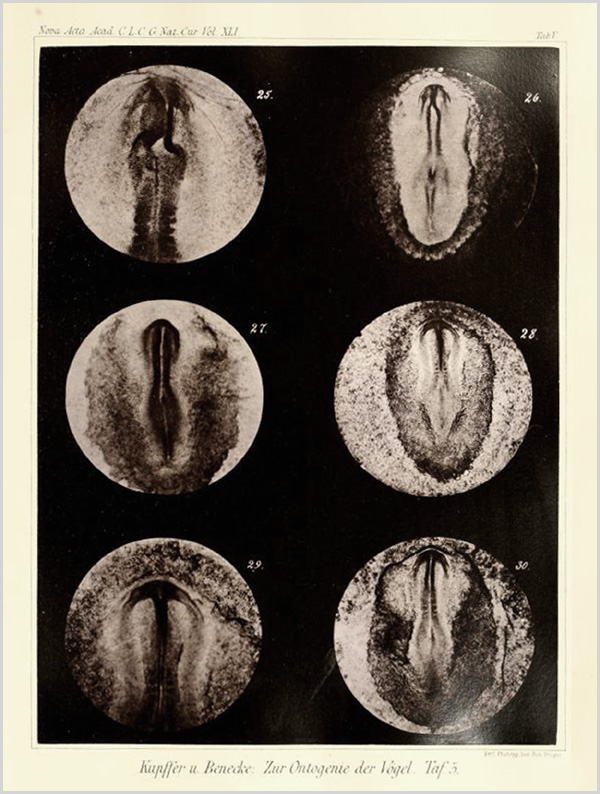 ---

©All rights reserved.