The homœopathic treatment of spinal curvatures according to the new principle.
---
Franklin, Edward Carroll, 1822-1885.
St. Louis : H. C. G. Luyties, 1878.

Description : [1]-79 p., [1 l.] p., [8 l.] pl. ; ill.: 4 phots., 20 figs., tbls. ; 22 cm.

Photographs : 4 albumen photographs on two leaves, representing Franklin's system of suspension.

Subject : Spine — Scoliosis ; treatment.

Notes :


Author caption: By E. C. FRANKLIN, M. D., Professor Of Surgery In The Homœopathic Medical College Of Missouri—Author Of "the Science And Art Of Surgery"—Surgeon To The Good Samaritan Hospital, And Ex. Brigade Surgeon Of U. S. Vols.—Late President Of The American Institute Of Homœopathy— Ex. President Of The Western Academy Of Homœopathy—Honorary Member Of The Homœopathtic Societies Of The States Of New York, Iowa, Massachusetts, Tennessee And Kansas—Fellow Of The Saint Louis Homœopathic College Club — Member Of The Saint Louis Homœopathic Medical Society, Etc., Etc.
Medical degree, New York University, Medical College, 1846.
Protégé of Valentine Mott (1785-1865).
Grand-nephew of Benjamin Franklin.
Private practice established in St. Louis, 1857.
Demonstrator, Homœopathic Medical College, St. Louis, 1860.
Chair of Surgery, Homœopathic Medical College, St. Louis, 1864.
Surgeon, Good Samaritan Hospital, St. Louis, 1871.
Dean, Homœopathic Medical College, St. Louis, 1876.
Professor of medicine, State University of Michigan, 1879.
Prodromus read before a session of the Western Academy of Homœopathy, Indianapolis, 1877.
Dedication page to David S[heppard]. Smith, M. D. (1816-1891).
Rutkow OR35.
Cordasco 70-1199.
Copy in the Digital Collection of NLM »».
Index Medicus: 11304561470, 20510601260.
---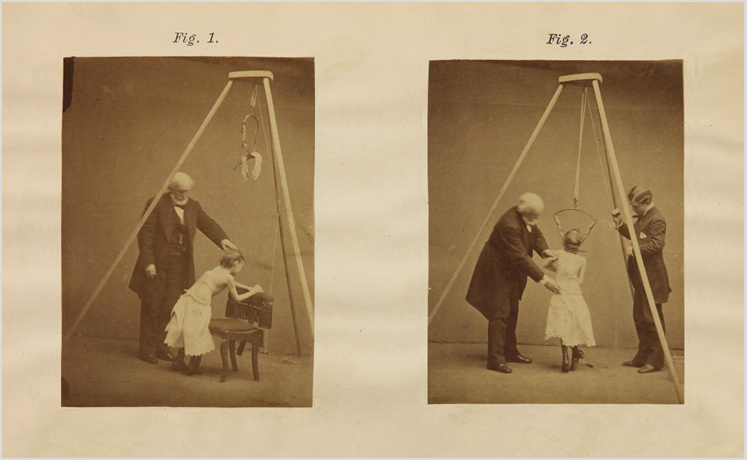 The four disturbingly beautiful albumens represent steps in Dr. Franklin's system of suspension for the treatment of a spinal deformity afflicting a ten year-old girl, whose hair was shorn so that it would not interfere in the fabrication of her plaster corset. The photographs are less professional emulations of the compositions illustrating the monograph of Dr. Lewis Sayre, who introduced the suspension and plaster jacket apparatus a year earlier (Sayre 1877). Franklin acknowledged the importance of Sayre's contribution, but maintained that his device improved upon and superseded what he called Sayre's "jury mast."
---

©All rights reserved.