Multiple papillomatous deposits on peritonĉum.
---
Burt, Frank Leslie, 1857-1930.
Journal : Annals of gynaecology and pediatry ; vol. i.

Boston : Rockwell and Churchill, 1888.

Description : [3 l.] pl., 588-590 p. ; ill.: 3 phot. figs. ; 23 cm.

Photograph : 3 photoengravings on printed leaves.

Subject : Peritoneum — Papillomata.

Notes :


Author caption: Reported by F. L. Burt, M. D., Murdock Free Surgical Hospital, service of E. W. Cushing.
Biographical information »»
Reprint of photographs: Martin & Cushing (1890), Pathology and therapeutics of the diseases of women ; Boston.
Editor's note, page 564.
Photo captions: see below.
Index Medicus: 11002871280.
---

Photo captions:

Fig. 2. Chronic Peritoneal Effusion. Caused by solid tumors of the ovaries, and by general invasion of the peritoneal surfaces by minute papillomata (see pages 564 and 590). Published by permission of the patient.

Fig. 3. Tumors removed from case represented by Fig 2. A —From right ovary. B — From left ovary, — cut open.

Fig. 4. Same case. Other side of B in Fig. 3. A and B — Cystic cavity with sprouting papillomata ; similar smaller cavities are scattered throughout the tumor which is mostly solid.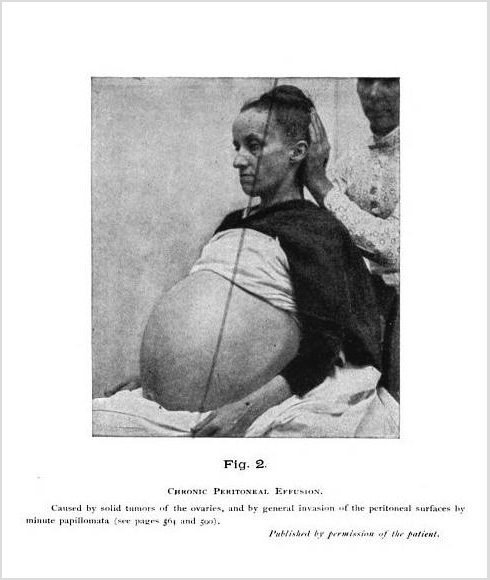 ---

©All rights reserved.