Report on prolapsed uterus; prolapses with ulcers and with hypertrophied cervix; vesico-cervical fistula.
---
Burt, Frank Leslie, 1857-1930.
Journal : Annals of gynaecology and pediatry ; vol. i.

Boston : Rockwell and Churchill, 1888.

Description : [4 l.] pl., 537-539 p. ; ill.: 8 phot. figs. ; 23 cm.

Photograph : 8 photoengravings on 4 printed leafs.

Subject : Uterus — Prolapse of.

Notes :


Author caption: Service of E. W. Cushing. Reported by F. L. Burt, M. D.
Medical diploma, Harvard Medical School, Boston, 1885.
Chief physician, Union General Hospital, Boston.
Reprinted: Martin & Cushing (1890), Pathology and therapeutics of the diseases of women ; Boston.
Photo captions: see below.
Index Medicus: 11503481210.
---

Photo captions:

Fig. 1. — See page 537. Prolapse size of child's head. Woman of 70 years. Over A at level of B os uteri; to the left, deep, incuable spreading ulcer, size of palm of hand.

Fig. 2. — Same case. Over A pouch of Douglas with inte4stines. B — Elastic ligature; at level of B on the finger is seen the ureter dissected from bed of ulcer; beyond this is bladder. D — Sound in amputated cervix uteri. Under C elastic ligature.

Fig. 3. — Same case. Douglas' pouch and bladder pushed up, and wound united with silk. Whole mass was then returned into pelvis; perfect recovery.

Fig. 4. — A — Prolapse of hypertrophied cervix. B — Hypertrophic elongation of post. lip. Page 538.

Fig. 5. — Complete prolapse. A — In centre of field ulcer of cervix and adjacent parts. Page 538.

Fig. 6. — Same case. Shows ulcer at level of A. At level of B ruptured perinaeum. Amputation of cervix; ant. colporrhaphy; pernaeorrhaphy. Complete recovery.

Fig. 7. — Vesico-cervical fistula (page 539) in middle line. At level of A fistula. At level of B sound in os uteri. Cervix torn and ant. lip rolled up.

Fig 8. — Same case. In middle line at level of A repair of fistula. At level of B end of black rubber plug in uterine canal. C — Speculum of lead pipe. Fifth operation; recovery.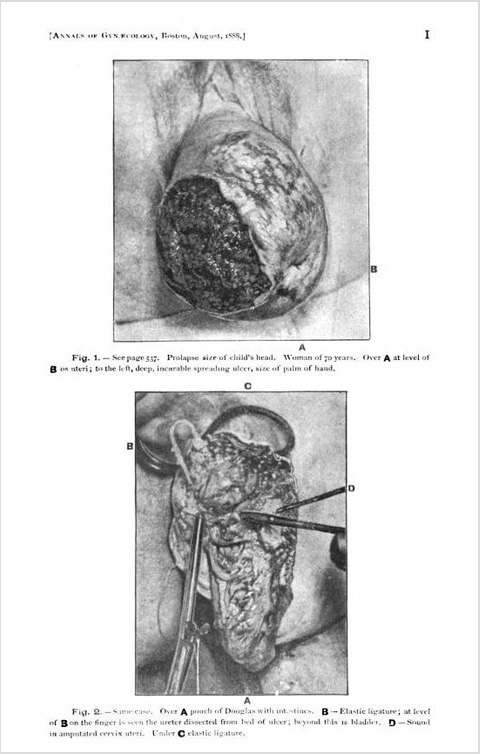 ---

©All rights reserved.