A case of keratosis (ichthyosis) follicularis.
---
White, James Clarke, 1833-1916.
Journal : Journal of cutaneous and genito-urinary diseases ; vol. 7.

New York : D. Appleton and company, 1889.

Description : 201-209 p. ; ill.: 1 phot., 2 engr. ; 26 cm.

Photograph : 1 photoengraving in-text (unverified).

Photographer : [Arthur Patterson] Chadbourne, M. D. (1862-1936).

Subject : Skin — Keratosis follicularis ; Darier-White disease.

Notes :


Author caption: BY JAMES C. WHITE M. D., Professor of Dermatology in Harvard University.
Medical degree, Harvard, 1856.
Appointed instructor in chemistry, Harvard Medical School, 1858.
Lecturer, skin diseases, Harvard Medical School, 1863-1864.
Editor, Boston Medical and Surgical Journal, 1863-1866.
Adjunct professor of chemistry, Harvard Medical School, 1866-1871.
Professor of dermatology, Harvard Medical School, 1871-1902.
Emeritus professor, 1902.
Founding member and first president, American Dermatological Association, 1877-1887.
President, Massachusetts Medical Society, 1892-1894.
President, International Dermatological Congress, 1907.
Offprint also issued.
Eponym: Darier-White disease.
Cordasco 80-6724.
GM 4093.
Index Medicus: 20708121560, 20806211500, 11604181230 (offprint).
---
The most prominent horny prolongations are seated upon the median spaces of the trunk, front and back, and are most pronounced over the sternum and pubes. See accompanying plate from a photograph by Mr. Chadbourne, medical house pupil.—Page 203.
• • •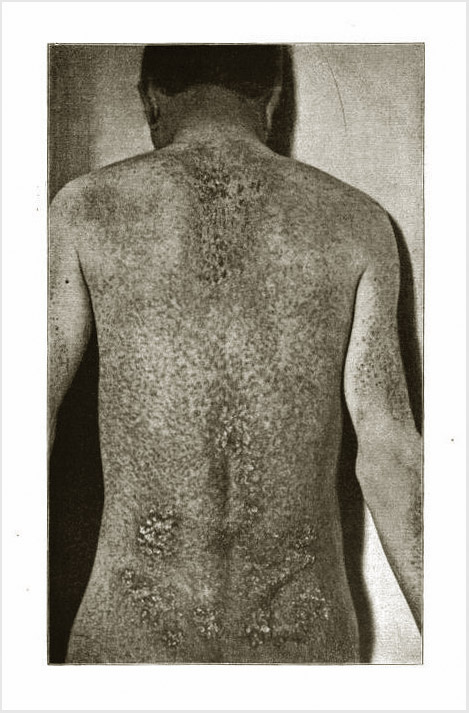 Working without knowledge of each other's research, James Clarke White and the authoritative Hôpital Saint-Louis dermatologist, Ferdinand-Jean Darier (1856–1938), published simultaneous reports on a rare skin disease that had a seborrheic distribution. Doctor White classified the disease as an ichthyosis, described in the early literature as "porcupine disease," but Darier believed the disturbances in epithelial tissue and sebacious glands were caused by parasites of the order coccidiae he called "psorozoaires." Darier also believed that these parasites were the cause of Paget's eczema of the nipple and would be found responsible for a host of other skin diseases that he named the "psorospermoses." At the International Congress of Dermatology held in Paris in August of 1889, Dr. White had a chance to examine a patient who was the subject of a report written by Darier and his student, Arsène Thibault (Vide intra »»). Upon his return to America, he was referred another patient with the affection, a 21 year-old female. After her examination by Dr. White, the woman returned to the waiting room and was surprised to see her estranged father seated there, the same man who was the subject of White's paper! This supported a congenital etiology of the disease and became the thesis of a sequel report White published with the title, Keratosis follicularis (psorospermose folliculaire végétante); a second case, in which he expressed his skepticism of the Darier pathogenesis.
---

©All rights reserved.