Observations cliniques pour servir à l'histoire de la psorospermose folliculaire végétante de Darier,
affection cutanée non décrite, ou comprise dans le groupe des acnés sébacées, cornées, hypertrophiantes, etc.
---
Thibault, Arsène-Marie-Émile, 1859-1922.
Paris : G. Steinheil, 1889.

Description : [1]-47 p., [1] p., [1 l.] pl. ; ill.: 1 phot. ; 22.5 cm.

Photograph : photolithograph.

Subject : Skin — Keratosis follicularis ; Darier-White disease.

Notes :


Author caption: Par Le Docteur A. THIBAULT ANCIEN INTERNE DES HOPITAUX DE PARIS (LA SALPÊTRIÈRE — HOPITAL SAINT-LOUIS — ENFANTS-MALADES).
Doctoral thesis, Thibault was Darier's student.
Thibault became professor of clinical medicine at l'École de médecine, Angers.
Inscribed by the author to [André] Jacquinot.
Reference: Lutz, Henri Charles (1860), De l'hypertrophie générale du système sebacé. Paris: Thèse No. 65.
Reference: Darier, Jean (1889), La psorospermose folliculaire végétante. Paris: Annales de dermatologie et de syphiligraphie; v. 10 (p. 597-612).
Index Medicus: 11301061080, 11301061090, 11404561370, 11404561380.
---
M. E. Besnier a déposé au musée l'observation du malade, prise par M. Huet, interne de M. Lailler, à l'époque où a été faite la pièce ci-dessus. Nous ne l'avons pas reproduite, en raison de sa similitude presque complète avec celle que nous avons recueillie nous-même. On trouvera également au musée les photographies du malade de la thèse de Lutz, faites post mortem, et les photographies du malade à l'époque où nous l'avons observé. Nous reproduisons ces photographies à la fin de notre thèse, M. Besnier a eu l'aimable obligeance de nous les communiquer.—Page 42.
• • •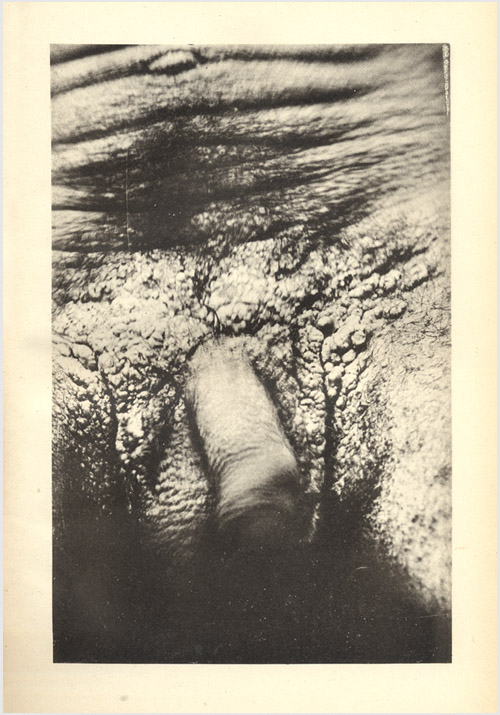 Darier's disease (GM 4097) proved to be the same as that identified by James Clarke White as keratosis follicularis.[1] White, however, found no evidence of dermatomycoses and the disorder is now known to be caused by an inherited defect in the genetic expression of the desmosome-keratin filament complex. A moulage of Darier's patient can be found in the archives of the Musée Hôpital Saint-Louis »»
See also Dr. White's paper, illustrated by a photograph »»

1.) White, James C. (1889), A case of keratosis (ichthyosis) follicularis. New York: Journal of cutaneous and genito-urinary diseases; v. 7 (p. 201-209). »»
---

©All rights reserved.