Case of moral insanity or congenital moral defect, with commentary.
---
Tuke, Daniel Hack, 1827-1895.
Journal : The journal of mental science ; vol. xxxi.

London : J. and A. Churchill, 1885-86 [Oct. 1885].

Description : 359-366 p., [1 l. pl.] ; ill.: 1 photo. ; 25 cm.

Photograph : 2 heliotype portraits on 1 leaf — front and side views of the subject.

Photographer : Powell.

Subject : Brain function — Cognitive & developmental disorders.

Notes :


Author caption: By D HACK TUKE, F.R.C.P.
Read at the Medico-Psychological Association annual meeting; Cork, Aug. 4, 1885.
Joint editor of the Journal of Mental Science.
President of the Medico-Psychological Association, 1881.
Photo caption: CASE OF MORAL INSANITY.
Photographs were also published in the American journal of insanity, vol. xliii. (July, 1886).
Vide intra: Clarke, C. K. (1886), The Case of William B. — Moral Imbecility »».
GM 4934, 4947, 5003.
Index Medicus: 20801351190.
---
When I was at the Kingston Asylum, Ontario, last August, a male patient had just escaped from the institution, and made a criminal assault upon a little girl in the neighbourhood. From the inquiries I made, I found that the case was one of much interest in its bearing on moral insanity (or imbecility), and I was allowed to read the notes in the well-kept case-book of the asylum. Dr. Metcalf, the medical superintendent, has very kindly permitted me to make use of them, and the further particulars of this patient's history and acts, which he has given me. A photograph was subsequently taken, which I have had reproduced by the London Autotype Company. (See Plate.). — pages 359-360.
• • •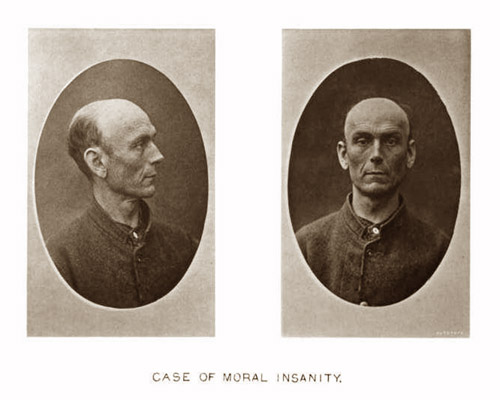 There exist two reports for this case, both portraying the psychopath "William B." with cameo photographs prepared by Powell, and both transcribing his history verbatim from detailed case notes prepared by Superintendent Dr. William George Metcalf. The second paper, written by Charles Kirk Clarke, addresses the political alarm raised by William B.'s sensational escape and mania sanguinis. Hack Tuke's paper is more circumspect and was published soon after the release of his book on North American asylums titled, The insane in the United States and Canada (1885). In that work he alludes to the William B. case, citing it as a failure of Canadian law which did not provide facilities for the criminally insane who were remanded to provincial asylums. Doctor Daniel Hack Tuke and his friend and collaborator, Sir John Charles Bucknill (1817-1897), were the standard bearers of British scholarship in governmental incarceration and treatment of the criminally insane. vide intra »».
• • •
When I visited this asylum, a circumstance had just occurred which displays, in its after-history, a curious condition of Canadian law. A male patient escaped from the asylum and made a criminal assault, for which he was arrested and tried. Incredible as it may seem, the opinion of the medical superintendent of the asylum was never sought. The man was found guilty, and sentenced to six months' hard labour in jail without the question of his insanity being gone into. The Judge stated that he must be lenient under the circumstances, but what these were have not been stated. Having read the history of this case, I should regard him as a most dangerous lunatic, and should not be surprised if he commits some frightful crime when he regains his liberty. It is difficult to understand why he was not placed in the criminal asylum, where he would certainly have been prevented doing any injury to society.
I am informed that in the old Lunacy Act (prior to 1871) there was a clause which should not have been repealed, viz., the provision made for the detention of criminal lunatics in the criminal asylum as soon as their sentences expired. At present the asylum-authorities are forced to receive all criminal lunatics and insane criminals belonging to the province of Ontario at the time their sentences have expired. This state of affairs is, as might be expected, most unfortunate for the Kingston Asylum, for it is made the repository for all these criminals, and their influence is anything but salutary. — Page 235, The Insane in the United States and Canada.
---

©All rights reserved.