The Case of William B. — Moral Imbecility.
---
Clarke, Charles Kirk, 1857-1924.
Journal : American Journal of Insanity ; vol. xliii.

Edited by medical officers of the New York State Lunatic Asylum.

Utica : State Lunatic Asylum, 1886-87 [July, 1886].

Description : [1 l.] pl., 83-103 p. ; ill.: 3 photos. ; 23 cm.

Photograph : composite photograph mounted on card stock.

Photographer : Powell.

Subject : Brain function — Cognitive & developmental disorders.

Notes :

Clarke was superintendent of the Kingston Rockwood Asylum, 1885-1905.
Clarke was an important proponent of the eugenics movement.
The photo is a composite reproduction of 3 cabinet cards.
Photographer's name appears embossed on two of the images.
Front and side portraits of William B. were also published in the Journal of Mental Science, vol. xxxi (Oct. 1885).
Vide intra: Tuke, D. H. (1885), Case of moral insanity or congenital moral defect, with commentary »».
Index Medicus: 20801341730.
---
Dr. Charles Kirk Clarke wrote this paper soon after he was appointed superintendent of the Rockwood asylum in Kingston in 1885. He succeeded his good friend and brother-in-law, Dr. William George Metcalf (1847-August 16, 1885), who perished from a stab wound inflicted by an inmate suffering from delusional paranoia. When Metcalf took control of the asylum in 1879, he introduced an "open door policy" which was modelled after a similar program instituted at the London Asylum by Dr. Maurice Bucke, but as Clarke notes in the following passage, this policy failed to protect the public from the criminally insane :
As Canadian law is at present, the question of B's care becomes a very difficult one to settle. An ordinary asylum is not the place for the criminal. We have no institution for the criminal insane, and this imbecile must remain in gaol until room can be found for him elsewhere. Strange to say it is impossible to convince the general public that B. is irresponsible and the impropriety of punishing him does not seem to have suggested itself, even to the very eminent judge before whom he was recently tried. The subject of insanity was ignored completely by crown and defence, although it was known B. came from the asylum. The judge in passing sentence said "he must be lenient under the circumstances," and distinctly impressed it upon the mind of the prisoner that he would be set free when his sentence expired. B. was delighted at the prospect and seems to have thoroughly appreciated the advantages to be gained from being a moral imbecile. — pages 102-3
As defined by British law with the 1913 Mental Deficiency Act, imbeciles were one of four mental defective types and were described as "incapable of managing themselves or their affairs, or, in the case of children, of being taught to do so." Another type, the "moral defective," was a more serious deficiency and described as displaying "some permanent mental defect coupled with strong vicious or criminal propensities on which punishment had little or no effect." In contemporary terminology, William B., the subject of this paper, would be classified as a secondary or neurotic sociopath similar to Ted Bundy and Dr. Clarke's case history is a splendid description of this disorder :
When first acquainted with the man, one is almost certain to overlook the imperfections that eventually manifest themselves, and the impression is created that B. has a mind equal, if not superior, to that of the average of his class in life. His memory is wonderfully good. He talks intelligently on most subjects, is a ready talker, and has an attractive manner. As might be expected, he is a great expounder of religious truths, and could he practice what he preaches, this tale would not be written. In spite of all the strong points just noted, B. is as a matter of fact little more than a child (a very bad one) in many respects, and any one knowing his weak points, can easily induce him to exhibit the deficiencies. He is cunning enough to hide his imperfections before the ordinary observer, and is really clever in "sizing" his companions.
Clarke's anecdotes of William B.'s imperfections include the torturing of cats, dogs, poultry, and a fixation for cutting off the tongues of horses and skinning them alive. His homicidal acts included an attempt at smothering his sister and the abduction of a thirteen year-old girl who were both rescued by accidental saviors as were several other victims, inmates all at the asylum. These included attempts at strangulation, an adventure of perforation with a fork, and a nearly fruitful attempt at castration. Clarke solicited a report from an attendant at Kingston Gaol who wrote of B., "Sticking pins into the fleshy parts of old and feeble patients was a favorite pastime with him, and he always made certain that the pin penetrated to its full extent, much to his own satisfaction if not to that of the victim."
Like his brother-in-law before him, Clarke was attacked by a disturbed inmate at Kingston and it is reasonable to speculate that this incident influenced his highly visible support of the eugenics movement, which led to the Alberta Sexual Sterilization Act in 1928 and the subsequent sterilization of over 2800 Canadian women classified as defectives by the government. In 1918, Clarke co-established the Canadian National Committee for Mental Hygiene, later called the Canadian Mental Health Association.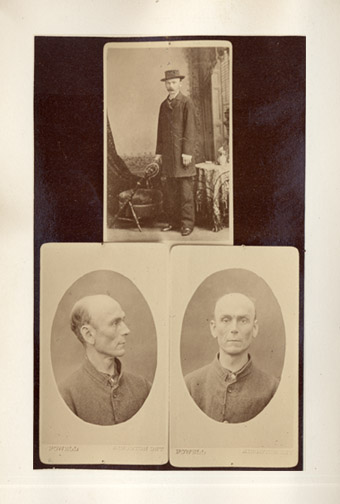 ---

©All rights reserved.