On numerical anomalies of the breasts, with remarks on the causes of deformities.
---
Sneddon, William, 1847-1907.
Journal : Glasgow Medical Journal ; vols. x, xi.

Glasgow : Dunn & Wright, 1878 ;
Glasgow : Alex. MacDougall, 1879.

Description : vol. x: [1 l.] pl., 69-78 p., 120-128 p. vol. xi: 92-96 p. ; ill.: 1 phot. ; 22 cm.

Photograph : portrait of the clinical subject facing page 49 of the journal.

Subject : Breast — Abnormalities.

Notes :


Author caption: By Wm. Sneddon, M.D., Beith.
Photograph faces page 49 of the GMJ.
Reprint: (1878) The Western lancet. San Francisco: Roman; vol. vii (pp. 181-191).
Reference: Leichtenstern, O. (1878), Ueber das Vorkommen und die Bedeutung supernumerärer (accessorischer) Brüste und Brustwarzen. Berlin: Archiv fur path. Anat., etc. ; vol. lxxiii (pp. 222-257 & pl.).
Index Medicus: 10204151280.
---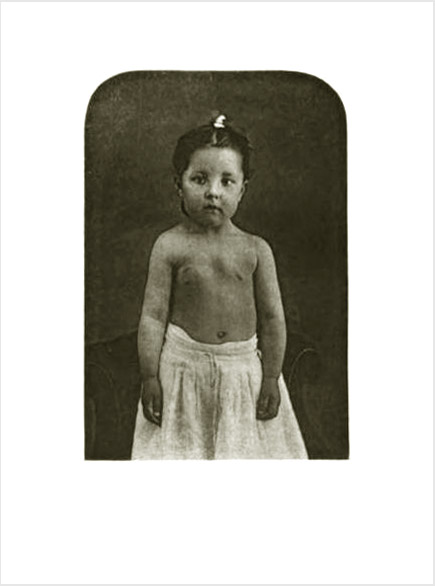 Photographic portrait of a standing four-old with an equally developed supernumerary breast below her right normal one. There is an upward deviation to her right scapula and the superior angle of the bone can be seen protruding above the shoulder line. Other abnormalities include an unnatural inclination of the ribs and a diminishment to the muscles over the right half of her rib cage. This is the first complete bibliography of polymastia and amastia of the breast to appear in print, but it was eclipsed by Otto Leichtenstern's (1845-1900) more complete bibliography which appeared a few months later. Leichtenstern added Sneddon's case of the 4 year-old to his paper, pointing out that Sneddon misidentified the left side of the photographic image as the left side of his patient. Both Leichtenstern and Sneddon failed to cite Charles Phillipe Robin's paper, Cas de tératologie (1869, vide intra: »»).
---

©All rights reserved.