Cases in orthopedic surgery :
read before the Massachusetts Medical Society at its annual meeting, June 3, 1868.
---
Brown, Buckminster, 1819-1891.
Boston : D. Clapp, 1868.

Second printing : Boston, James Campbell, 1869.

Description : 23 p., [8] leaves ; ill., 8 plates, 24cm.

Photographs : 8 tipped-in albumens.

Photographer : Josiah Johnson Hawes.

Subject : Orthopedic Surgery. Orthopedics.

Cited :

Cordasco, 60-0220.

Shands, Early Orthopaedic Surgeons of America ; pp. 133-39.

Goldschmidt & Naef, Truthful lens ; p. 28.

Burns, Stanley B., M.D., A Morning's Work ; Santa Fe, Twin Palms Publishers, 1998 ; plate 25 :
Five of the photographs in Dr. Brown's book showed plaster casts of feet. Taken by Josiah Hawes, these images provided a permanent record and excellent teaching tool. A Boston society photographer and one of the leading art photographers in this country during the daguerreian era, Hawes on occasion helped his noted clients with their professional photographic needs. He was invited to take the first photographs demonstrating the use of ether, at Massachusetts General Hospital in 1846 and 1847.
Rutkow, Ira M., M.D., American Surgery: an illustrated history ; Philadelphia, Lippincott-Raven, 1998 ; p. 533 :
Although not a voluminous writer, Brown authored several important publications, including "Cases in Orthopaedic Surgery With Photographic Illustrations of the Cases Presented" (1868). This twenty-three-page pamphlet represents the first American orthopedic text to be illustrated with actual photographs, in this case silver prints.
Notes :
Brown studied at Guérin's clinic in Paris during the winter of 1845-1846.
Index Medicus: 10204901070.
---
Subjects of the 8 albumens are foot and spinal deformities. The noted Boston society photographer Josiah Hawes composed the photos. See also the image attributed to Hawes in Wigglesworth »»
The figures in the accompanying Plates are photographic representations of most of the cases described in the preceding paper. They are copied with an accuracy only attainable by that wonderful art which permits the subject to stamp its own image.
Each one is the type of a class, or is illustrative of practical facts referred to in the text, and is indicated by numerals under the appropriate heads. — Buckminster Brown.
The following images are linked to enlargements :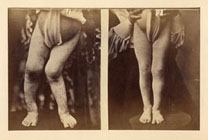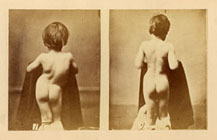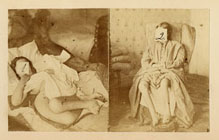 This slim work provides a transcription of Dr. Buckminster Brown's oral report on twenty orthopedic cases which he delivered to the Massachusetts Medical Society at its annual meeting in 1868. It was a visually engaging event with an elaborate display of plaster casts illustrating 12 cases of foot deformities surgically treated by Dr. Brown. He also staged several of his patients and provided photographic representations of those patients who could not participate in his demonstration.
Clinical subjects who participated included a congenital varus of the right foot (Case 3, plate 2), double talipes varus (Case 4, plate 2), and paralytic varus (Case 5, plate 2). Clinical subjects also included three patients treated by Dr. Brown for spinal deformities, specifically two cases of rare and usually fatal caries in the cervical vertebrae (Cases 17 and 18), and a severe spinal spondylosis (Case 15). Another less severe spondylosis (Case 16) afflicting a boy from Lawrence Kansas was photographically represented (plate 7).
The last patient on view was a boy who recovered from a morbus coxarius (Case 19) treated by another Harvard orthopedic surgeon, Dr. J. Mason Warren (son of John Collins Warren). Brown makes the argument that the child's recovery was as much a response to antiphlogistic remedies and "counter-irritants" as it was to splints or mechanical extension. Physicians, he argued, should not abandon the traditional treatments once directed by Dr. Pott. Because Buckminster Brown himself was deformed by spondylosis as a child when treatments for this disease were sometimes punishing and often nugatory, it would have been remarkable to hear the delivery of his words, summoned as they were from a personal experience.
Towards the end of his presentation Brown discussed torticollis of the neck and its effective treatment with a "nearly perfect" device invented by his father, Dr. John B. Brown. He also presented an adaptation of this device which he invented for the treatment of milder cases of "wry neck." Brown concluded his lecture with a dramatic case of recovery from a spinal injury sustained by a twenty year-old woman when she was eleven (Case 20). Her condition was represented by two photographs (plate 8), shot before and after treatment.
---

©All rights reserved.