Syphiloderma Tuberculosum: LADY IN A HAT
---
THE CRESCENTIC and circular arrangement of the lesions left no doubt as to the nature of the affection. There is scarcely a more unmistakable eruption figured in the whole series.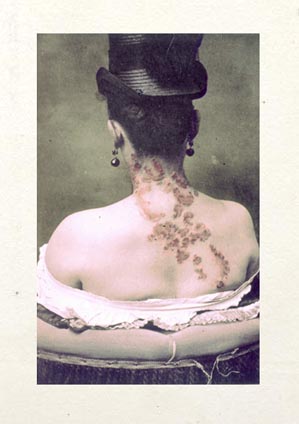 Well, then, you can just kiss my arse;
I'm not taking the hat off. A lady without a hat
is no lady. I'm not one of your old whores
here to have her ailing privates looked at.

I assume you're familiar with quality:
note the eardrops, real jet, worth tidy sums.
Like my bonnet, they come from Paree.
And this is pure Belgium lace on my bosoms.

I have several French admirers.
I talk French to them . . . at the opera . . .
drinking mugs of champagne. They buy me furs
and whole hams and look at me and just ooh and ah.

I'm only here to visit Dr. Fox
and get another dose of mercury.
It's more like a rash than the pox,
and I really don't give a damn about photography.
---

©All rights reserved.