C. T., age 35: LICHEN RUBER
---
THE ERUPTION first appeared at the age of seven. When photograph was taken the patient was in a poorly nourished condition. The itching of the eruption was generally slight, though at times of an intense character. When the disease has existed for some time, the patient tends to become emaciated, and in time the strength fails, and death ensues. The patient has been under intermittent treatment by tonics, alteratives, and soothing applications for two years. The improvement has been slow but decided. She had previously taken arsenic, with little or no effect. Has seemed to improve the most under inunctions of oleum lini, with the crushed seed and milk taken internally.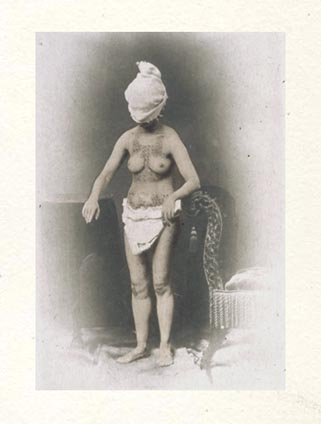 What does she say to you,
this enigmatic Miss C.T.
with the lichens!?
I hear little, yet I still
return to her again and again—
to stare, I guess, at the way
her head is wrapped,
bound up so completely
it seems sculpture
or sculpture's ruin—some statue's
bashed head whose plaster filling
remains—or is it the woven tip
of some larval thing she's been shedding
but for the sticky silk
of her head and ovipositor,
that white triangularity
below the belly.
To stare at how she seems
haltingly propped
between the table
and the fancy tassel
of the bench or chair—
such wrinkled knees?
To stare at her breasts,
which for some reason
the lichens did not colonize,
breasts many a man might
gladly woo were they
on another's body, and any lady
might esteem were the head
a head, the stance not a hobble,
and the lichens scrubbed away.

There's no voice here
for my ear to find, no residue
of pain, though I know it there.
Is it that the face is too hidden,
too sculpted into anonymity?
She stands like an address—
on the other side of the tracks,
factless, informal and resigned,
alone and without meaning.
What postcard could I send there:
"Dear C., I hope you were cured, wooed,
and well-fed. I wish I'd heard
your voice, cared more for your pain."
But I see you only as object,
an odd composition, an old nightmare
too surreal for hunger,
lichen and pain. And I know I mis-see,
misjudge, and misunderstand.
---

©All rights reserved.