A BIBLIOGRAPHICAL GUIDE TO:
Mütter Museum Historic Medical Photographs.
The College of Physicians of Philadelphia.
---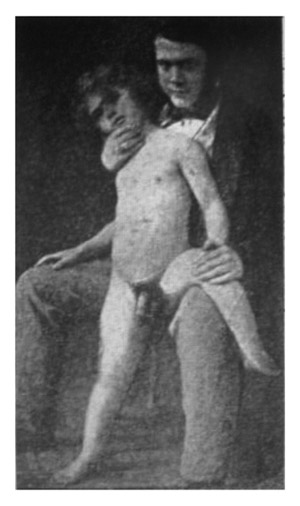 From White & Martin.
There is only one daguerreotype reproduced in the Mütter book, falling on page 77. It is the Kohinoor of the collection though, portraying a four year-old boy with precociously developed adult genitalia and the physician who is trying to pin his squirming patient into a fixed position long enough for the camera to immortalize their images. The physician was Dr. Robert King Stone (1822-1872), a professor of physiological anatomy in the National Medical College, and a surgeon at Washington Infirmary. As he explained in his report read before the Pathological Society of the District of Columbia, Dr. Stone at first suspected he was the victim of a hoax :
Mr. Charles S—, of this District, brought his son, Theodore, to my house on the 14th of September, 1852, his birthday, for my inspection and opinion; stating that on that day he was four years old. I at once declared my incredulity, for his height and robust development seemed those of a child at least six years older than the age he mentioned. My astonishment was greatly increased, when, on stripping the boy, he offered to my view the well- developed sexual organs of a man, and the pubes covered with a luxuriant growth of hair. I was perfectly incredulous that the boy was born on the 14th of September, 1848 ; but his father said he could produce his certificate of nativity, and that he, with his mother, the midwife who delivered him, and fifty other responsible persons, would swear that he had stated his age correctly. The boy is remarkably handsome, and when stripped, presents a form of great beauty, which is, in fact, a miniature model of a perfectly developed athletae. 4 — Page 561.
Dr. Stone continues his report with detailed physical findings, including anecdotal information of the child's sexual precocity. Appended to the report is a review of the literature for similar cases, information which was provided by his friend, Dr. A. D. Coolidge, U. S. A.
The photograph was published as a half-tone on page 95 of White and Martin's Genito-urinary surgery and venereal diseases 5 with the caption, "Fig. 50.–Precocious sexual development. From Mütter Museum, College of Physicians, Philadelphia Pa," along with the following brief text note (op. loc.):
Megalopenis.—In congenital imbeciles the penis is often of unusual size, and in dwarfs and hunchbacks it is not uncommonly developed not only out of proportion to the other parts of the organism, but even beyond the average for individuals of normal growth; this is also noted in precocious puberty (Fig. 50).
I have also seen a woodcut reproduction of the image somewhere, but the title escapes my memory. More recently, this daguerreotype was loaned by the museum for the 2002 exhibition Foreign Body: Photography and the Prelude to Genetic Modification at the International Center for Photography. Museum director Gretchen Worden's typescript manuscript provided the factual information on Dr. Stone and Theodore Scrivener for this exhibition.
Continued:

4.) Stone, Robert King, (1852), Extraordinary precocity in the development of the male sexual organs and muscular system in a child four years old. Philadelphia: Blanchard & Lea; The American Journal of the Medical Sciences, vol. xxiv, pages 561-564.
5.) White, James William, & Martin, Edward, (1897-), White and Martin's Genito-urinary surgery and venereal diseases. Philadelphia: Lippincott; 11th edition (1918), page 95.
---

©All rights reserved.