Plate 45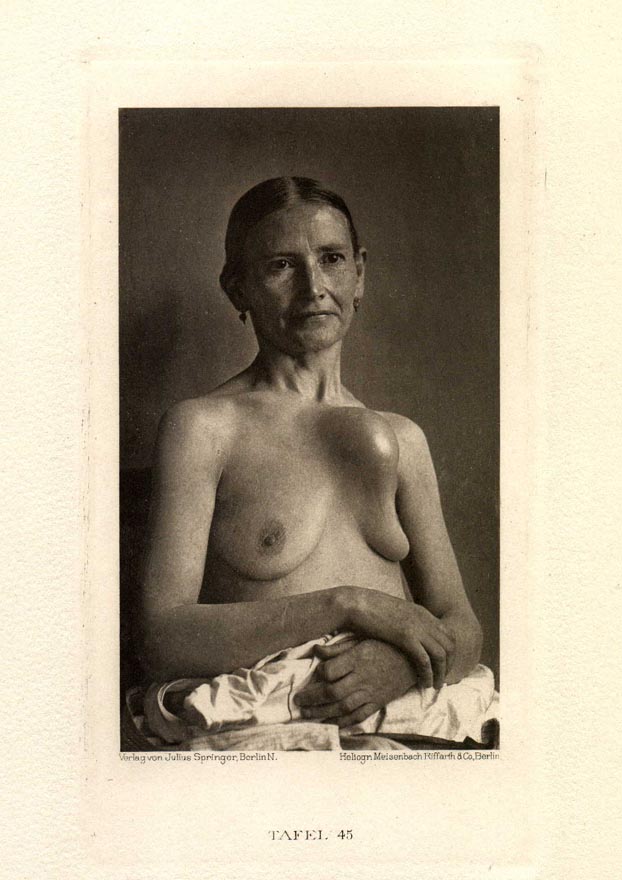 Aneurysma arcus aortae.
45 Year old workers wife. Onset of the disease about 6 years prior with heart palpitations and respiratory difficulties. First appearance of the swelling 5 years prior. Cause of the malady completely unknown, neither lues nor abusus spirituosorum. No sclerotic mutations to the other arteries which are accessible to examination.
The case is distinguished by a tremendously heavy pulsating sack, a strange enormity protruding from the forward chest wall. The swelling sometimes grew very rapidly, but would also completely stagnate for a month, and even slight reductions were observed, giving rise to false hopes. Notwithstanding the considerable size of the sack, the patient gave and gives no signs of adverse effect from the intrathoracic formation (stress, necrosis etc.), a good hint, that the aneurysm had discharged itself preferentially away from the anterior surface of the chest and, in far lesser measure, towards the interior of the chest cavity, and therefore it can be interpreted as a sack formation in essence.
---

©All rights reserved.