Plate 16
Acromegaly (pachyakrie).
Especially pronounced example of this rare disease type.
Patient, a 40 year old tanner, married, father to 8 healthy children, anamnestically unencumbered, never been luetic, had noticed the first appearance of his affliction eight years prior: increasing sallowness, general lassitude, diminishment of sexual virility, cold sensation in hands and feet, spasmodic constriction of the toes, and very early beginning thickening of the fingers, toes and nasal vertex.
Fig. 16 ( entire figure from the side) shows the enormous paw-like hand with outsized, clubbish thick fingers and the short broad nails, as well as the monstrous foot, in which is also noticeable the thickening of the toes, the significant volume of the wide rearward looming heel and the bulging thickness of the pedal margins. The foot measures from the large toe up to the heel 45.5 cm. Size of the foot from the balls of the largest to that of the smallest toe 32.0 cm. and 8.8 cm. for the nail section of the middle finger.
That which is so very typical for the facial type in its side view*, plate 17 shows in extraordinary development from the front: the elongated nose, especially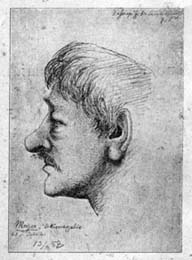 thickened in its tip, the thickening of the upper and of the lower sack-like pendant eyelids and the resultant narrowing of the slits, the wide bulging lips, the extremely elongated broadened chin, and the oversized ears. The tongue had also become involved in the process. It was wider and thicker than normal. Its size (2.5 cm from the tip) totaled 16.0 cm.
The patient presented an additional number of frequent or quite regularly recurring changes incidental to this affliction, primarily complete atrophy of the thyroid gland and bitemporal hemianopsia.
* Also particularly instructive is an identical drawing presented as an autotype dropped within the text.
---

©All rights reserved.