Éléphantiasis de la verge et du scrotum.
---
Voillemier, Léon Clément, 1809-1878.
Journal : Revue photographique des hôpitaux de Paris ; vol. 1.

Paris : Adrien Delahaye, 1869.

Description : [1 l.] pl., 1-3 p. ; ill.: 1 photo. ; 24.5 cm.

Photograph : mounted albumen.

Subject : Genitals — Elephantiasis and hypertrophy of.

Notes :


Author caption: "Dr. Voillemier, Chirurgien de l'Hôtel-Dieu de Paris"
Photo caption: "Éléphantiasis de la Verge — Planche I."
Monograph edition: Éléphantiasis du fourreau de la verge et du scrotum (Paris: 1873).
Index Medicus: 10503511210.
---
La planche qui accompagne cette observation représente l'état du malade avant et peu de temps après l'opération : le résultat définit est encore plus satistaisant que celui dont nous publions une photographie, prise à l'époque dont il s'agit.
• • •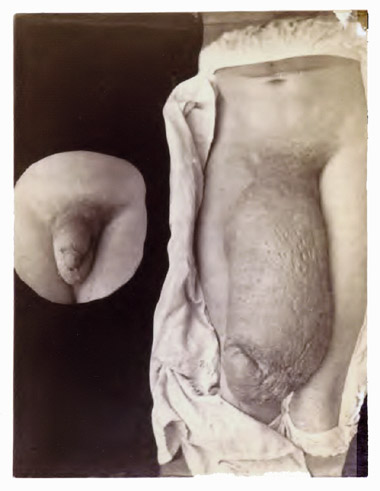 Original scanned by Google Books.
Two wax models of this case were made by Jules Baretta (1834-1923) and presented by Voillemier to the Royal college of surgeons. Follows is a description published in the 1875 second edition of the museum catalog* compiled by Wilson:

468. Model, showing elephantiasis arabum or spargosis of the penis and scrotum. The surface of the tumour is marked by numerous pits corresponding with the apertures of follicles, and its extremity is nodulated by inversion and irregular growth of the margin of the prepuce, the inversion being due to the unyielding nature of the fraenum. The aperture of the prepuce is seen to the left of the middle line. This model, with the following one, was presented to the Museum by Dr. Voillemier, of the Hôtel-Dieu, Paris, to illustrate a remarkable form of spargosis as well as the successful results of operation, and was accompanied with a pamphlet entitled "Éléphantiasis du fourreau de la verge et du scrotum," 1873, deposited in the Library. Both models are the work of Baretta.


* William James Erasmus Wilson, Descriptive catalogue of the dermatological specimens contained in the museum of the Royal college of surgeons of England ; London: Taylor and Francis, 1875 (page 124).
---

©All rights reserved.