Teratologie.
Arrêts de développement multiples; hémi-phocomélie.
---
Villard, Ferdinand, 1842—1907.
Journal : Revue photographique des hôpitaux de Paris ; vol. 3.

Paris : Adrien Delahaye, 1871.

Description : 164-167 p., [1 l.] pl. ; ill.: 1 photo., 1. fig. ; 24.5 cm.

Photograph : mounted albumen; clinical portrait.

Subject : Congenital limb defects — Phocomelia.

Notes :


Author caption: "par F. Villard, interne des hôpitaux."
Villard served politically as Sénateur de la Creuse, 1894-1907.
Photo caption: "Planche XXI. — Ectromélie; Phocomélie."
In-text woodcut of a prosthesis made by the instrument maker [Louis-Joseph] Mathieu (1817-1879).
Index Medicus: 10904231740.
---
Geoffroy Saint-Hilaire ne connaissait pas d'exemple authentique de phocomélie pelvienne unique ; le fait précédent en constitue un cas remarquable. Debout en a réuni plusieurs observations intéressantes ; dans toutes, comme dans la nôtre, l'arrêt de développement porte avant tout sur le fémur. La figure 7 représente l'appareil qui a été construit chez M. Mathieu pour permettre à l'enfant de se tenir debout et de marcher. — Page 167.
• • •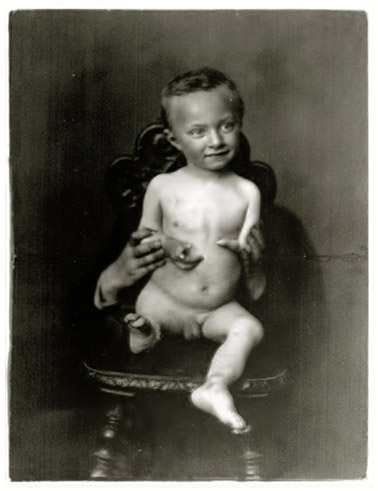 The two-year old was described by Villard as intelligent and good natured which is confirmed in the accompanying photographic portrait of a winsome curly-haired boy. The text figure represents a prosthetic leg which was custom made for the subject.
---

©All rights reserved.