Observation de cancer du sein chez l'homme.
---
Thaon, Louis-Albert, 1846-1886.
Journal : Revue photographique des hôpitaux de Paris ; vol. 3.

Paris : Adrien Delahaye, 1871.

Description : 129-130 p., [1 l. pl.] ; ill.: 1 photo. ; 24.5 cm.

Photograph : mounted albumen, clinical portrait.

Subject : Breast (Male) — Cancer.

Notes :


Case directed by Ulysse Trélat (1828-1890), at the Pitié-Salpêtrière.
Peer reviewed in: [Journal] Bulletins de la Société anatomique de Paris for 1871. Paris: Delahaye, 1873 (pp. 75-77).
Peer review title: Une tumeur du sein de l'homme.
Author caption: "Par M. Thaon, interne des hôpitaux de Paris."
Eponym: Guillain-Thaon syndrome.
Photo caption: "Planche XVII — Cancer du Sein Chez l'Homme."
Index Medicus: 10204221250 (for the peer review).
---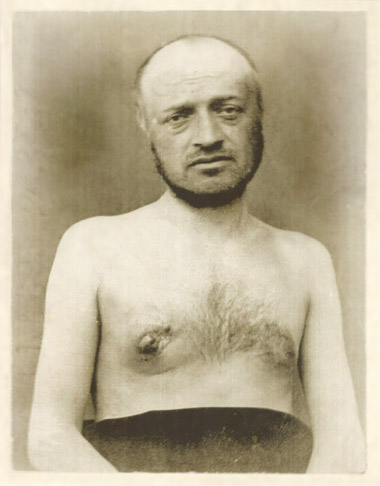 Thaon's major contribution in life was toward the disambiguation of the tuberculosis symptomology (Recherches sur l'anatomie pathologique de la tuberculose, 1873). This paper, which is really no more than a brief case report, was followed by a broader bibliographic report on cancer in the male breast written by Peltier titled Notes sur le cancer du sein chez l'homme (pp. 130-135).
---

©All rights reserved.