Fracture multiple du tiers supérieur de l'humérus droit; balle incrustée dans la cavité glénoïde de l'omoplate; résection de l'épaule; guérison.
---
Reliquet, Émile 1837-1894.
Journal : Revue photographique des hôpitaux de Paris ; vol. 3.

Paris : Adrien Delahaye, 1871.

Description : 225-231 p., [2 l. pl.] ; ill.: 2 photo. ; 24.5 cm.

Photographs : 2 mounted albumens.

Subject : Humerus — Fracture, sequelæ.

Notes :


Author caption: "Par le docteur Reliquet."
Photo caption: "Planche XXVII — Résection de l'Épaule, No. 1."
Photo caption: "Planche XXVIII — Résection de l'Épaule, No. 2."
Index Medicus: 10605021170.
---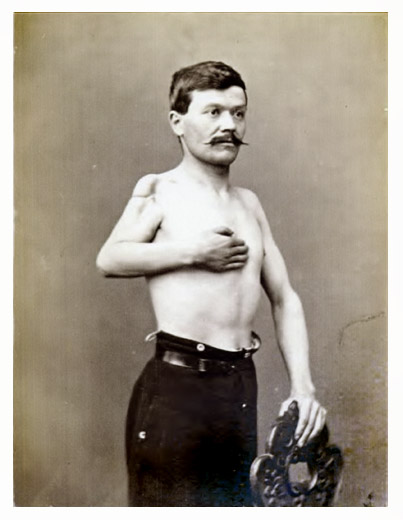 The two photographs are front and side portraits of a 30 year old moustachioed soldier who was wounded at the battle of Champigny on November 30, 1870. The photo session took place 11 months later and he is portrayed shirtless, from mid-thigh up, exposing the scar tissue over his right shoulder and a 10 centimeter diminishment in the length of the arm. Reliquet was distinguished within his specialty of urology and published widely.
---

©All rights reserved.