Cas d'Obésité.
---
Parrot, Joseph-Marie-Jules, (1829-1883).
Journal : Revue photographique des hôpitaux de Paris ; vol. 1.

Paris : Adrien Delahaye, 1869.

Description : [1 l.] pl., 21-22 p. ; ill.: 1 photo. ; 24.5 cm.

Photograph : mounted albumen.

Subject : Genetic Disorders — Prader-Willi Syndrome.

Notes :


Author caption: "Observé par M. le docteur Parrot, médecin des infants assistés."
Photo caption: "Obésité — Planche VI."
Includes table of physical measurements.
---
The clinical study is of obesity in a ten year old female, who stands completely nude before the camera. My copy of the Revue also includes a back view taken of the child—probably distributed only to a select few subscribers. Her image is the first published photograph illustrating a genetic disorder known as Prader-Willi syndrome. A leading pediatrician in France, Parrot's name appears in the autobiography of Sarah Bernhardt, who relied on his care well into her adult years.
• • •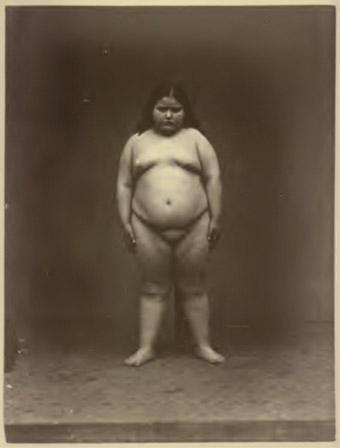 ---

©All rights reserved.