Description du pulsographe du Docteur Ozanam.
---
Ozanam, Charles, 1824-1890.
Journal : Revue photographique des hôpitaux de Paris ; vol. 2.

Paris : Adrien Delahaye, 1870.

Description : [1 l.] pl., 56-63 p. ; ill.: 1 photo. ; 24.5 cm.

Photograph : mounted albumen, image of Dr. Ozanam's pulsograph.

Subject : Heart — Physiological instruments, Cardiographs.

Notes :


Graphical analysis provided in later papers (pp. 138-142 & 150-155).
Author caption: "Dr Ch. Ozanam."
Photo caption: "Planche IX. — Pulsographe du Dr Ozanam."
Index Medicus: 11108511020.
---
Dans les prochains articles, nous donnerons la photographie du pouls physiologique aux différents àges et du pouls pathologique, avec toutes les explications nécessaires pour au sujet aussi important. — p. 63.
• • •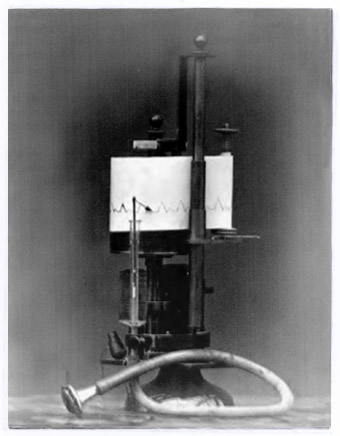 Ozanam's first demonstration of his device was reported in the Bulletin de la Société française de photographie in 1869. The Ozanam pulsograph was hardly an improvement over the Marey and Chaveau tambour cardiograph, but it led to further studies of the pulse in vascular and inflammatory diseases which he published in an encyclopedic work titled La circulation et le pouls; histoire, physiologie, séméiotique, indications thérapeutiques (J.-B. Baillière: 1886).
---

©All rights reserved.