Le favus et l'herpès tonsurant examinés au microscope.
(Voir planches XXIX et XXX.)
---
Montméja, A. de, 1841- .
Journal : Revue photographique des hôpitaux de Paris ; vol. 1.

Paris : Adrien Delahaye, 1869.

Description : [2 l.] pl., 157-158 p. ; ill.: 2 photo. ; 24.5 cm.

Photograph : mounted albumens, both photomicrographs.

Photographer : A. de Montméja.

Subject : Parasitic skin disorders — Favus.

Notes :


Author caption: "La Rédaction" (Montméja).
Photo caption: "Planche XXIX. — Favus."
Photo caption: "Planche XXX. — Herpès Tonsurant."
Index Medicus: na.
---
Nous empruntons à la Clinique photographique des maladies de la peau (I), deux planches qui en disent plus à elles scules que toutes les descriptions que l'on pourrait donner des types qu'elles représentent.
• • •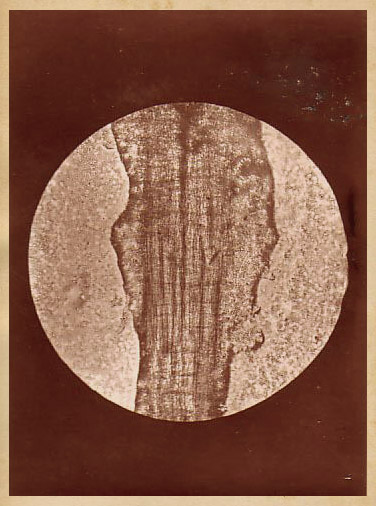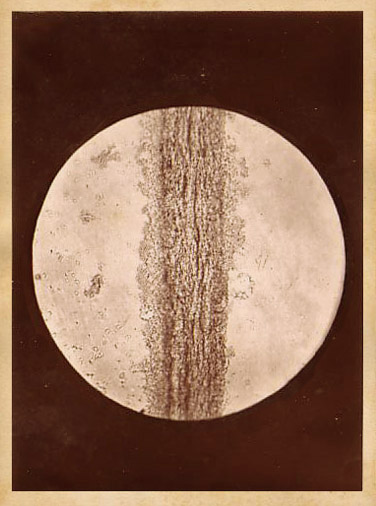 These photomicrographs were published in the first and second editions of the Hardy and Montméja atlas of skin diseases. 1 This paper has little to offer except to advert attention to the atlas.

1 Hardy, Alfred & Montméja, A. de, (1868) Clinique photographique de l'Hopital Saint-Louis. Paris: Librairie Chamerot et Lauwereyns.
---

©All rights reserved.