Goître exophthalmique.
---
Montméja, A. de, 1841- .
Journal : Revue photographique des hôpitaux de Paris ; vol. 3.

Paris : Adrien Delahaye, 1871.

Description : 275-276 p., [1 l. pl.] ; ill.: 1 photo. ; 24.5 cm.

Photograph : mounted albumen of a male subject, representing exophthalmia.

Photographer : A. de Montméja.

Subject : Thyroid — Exophthalmic goiter; Graves' disease.

Notes :


Author caption: "Par le docteur A. de Montméja."
Photo caption: "Planche XXXV. — Goître Exophthalmique."
Index Medicus: 10504821320.
---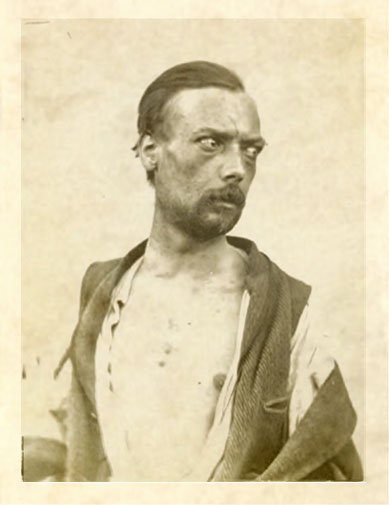 There are thousands of papers written on goiter and listed in the surgeon general's catalog. Why the editors included this report of the disorder in the Revue is a mystery. It is probably the first photograph published of the disease, however, and has value as a clinical picture of the male patient when little or no swelling in the neck is present.
---

©All rights reserved.