Arrêt de développement de l'avant-bras gauche (hémimélie).
---
Le Roy des Barres, Alexandre Julien, 1845-.
Journal : Revue photographique des hôpitaux de Paris ; vol. 3.

Paris : Adrien Delahaye, 1871.

Description : 80-82 p., [1 l. pl.] ; ill.: 1 photo. ; 24.5 cm.

Photograph : mounted albumen reproducing a drawing (unverified).

Subject : Congenital limb defects — Hemimelia.

Notes :


Author caption: "Par Leroy des Barres, interne des hôpitaux de Paris."
Photo caption: "Planche XI — Hémimélie de l'Avant-bras Gauche."
Index Medicus: 10404451610.
---
Cette femme dit avoir été très-vivement impressionnée au troisième mois de sa grossesse par la vue d'un de ses voisins qui est atteint d'une paralysie de la main droite. — page 82.
• • •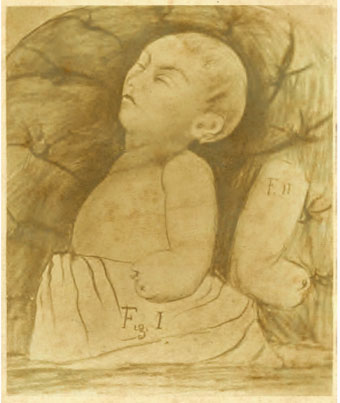 Second in a series of articles on hemimelia of the lower arm which appeared in the Revue during 1871 (vide: Bourneville & Troisier, pp. 77-80; and Deffaux, pp. 106-108). Alexandre, as did his father before him, practiced at hôpital Saint-Denis.
---

©All rights reserved.