Observation de lichen hypertrophique.
---
Hardy, Alfred, 1811-1893.
Montméja, A. de, 1841- .
Journal : Revue photographique des hôpitaux de Paris ; vol. 1.

Paris : Adrien Delahaye, 1869.

Description : [1 l.] pl., 38-41 p. ; ill.: 1 photo. ; 24.5 cm.

Photograph : mounted albumen.

Photographer : Montméja, A. de, 1841- .

Subject : Skin — Eczema hypertrophicum (papillomatosum).

Notes :


Author caption: n/a (Hardy and Montméja).
Photo caption: "Lichen Hypertrophique — Planche VIII."
Index Medicus: 10801041600.
---
No author is identified, but it is most certainly the work of Alfred Hardy with collaboration by Montméja. The photograph accompanying this paper was later published in the 1872 second edition of Hardy and Montméja's atlas Clinique photographique de l'Hopital Saint-Louis and also made into a wax model by Baretta. Bazin described a similar affection as an "éruption papilliforme consécutive à de l'eczema." For the purpose of classification, however, Hardy stressed the fungoid aspects of the papillar growth and termed it: hypertrophic lichen.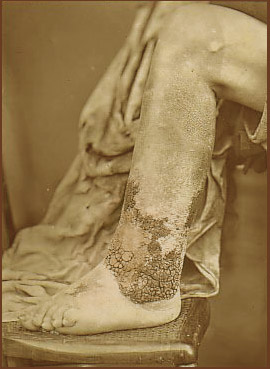 • Hardy, Alfred & Montméja, A. de, Clinique Photographique des Maladies de la Peau ; Paris: Librairie Chamerot et Lauwereyns, 1872 ; plate 30.
• Pringle, John James, Third International Congress of Dermatology ; London: Waterlow and Sons, 1898 ; p. 625.
• Wilson, Erasmus, Descriptive catalogue of the dermatological specimens contained in the museum of the Royal College of Surgeons of England ; London: Taylor and Francis, 1870 ; no. 47, p. 8-9.
---

©All rights reserved.