Syphilide pigmentaire modifiée par la grossesse.
---
Guibout, Eugène (1820- ).
Journal : Revue photographique des hôpitaux de Paris ; vol. 1.

Paris : Adrien Delahaye, 1869.

Description : [1 l.] pl., 65-67 p. ; ill.: 1 photo. ; 24.5 cm.

Photograph : mounted albumen.

Photographer : A. de Montméja.

Subject : Skin — Treponema carateum.

Notes :


Author caption: "Par le docteur Guibout, médecin de l'hôpital Saint-Louis."
Photo caption: "Planche XIII — Syphilide Pigmentaire."
Indes Medicus: 11401351010.
---
Image captured of a standing female subject, from chin to knees, with Treponema carateum type patches (pintids) to the thighs and sides of the torso. Hardy originated the term "syphilide pigmentaire" in 1851.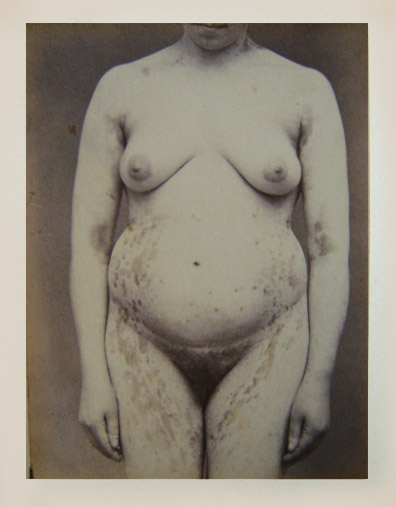 This photograph was first published in the 1868 edition of the Hardy and Montméja atlas of skin diseases. 1

1 Hardy, Alfred & Montméja, A. de, (1868) Clinique Photographique des Maladies de la Peau. Paris: Librairie Chamerot et Lauwereyns.
---

©All rights reserved.