Sarcome ganglionnaire primitif.
---
Cornillon, [Jean].
Journal : Revue photographique des hôpitaux de Paris ; vol. 3.

Paris : Adrien Delahaye, 1871.

Description : 257-262 p., [1 l. pl.] ; ill.: 1 photo. ; 24.5 cm.

Photograph : mounted albumen, portrait.

Subject : Neck — Lymphosarcoma; Ewing's sarcomas.

Notes :


Author caption: "Par J. Cornillon, interne des hôpitaux de Paris."
Surgery conducted by [Ulysse] Trélat (1828-1890) at the Pitié-Salpêtrière.
Photo caption: "Planche XXXII — Sarcome Ganglionnaire."
Index Medicus: 10906731590.
---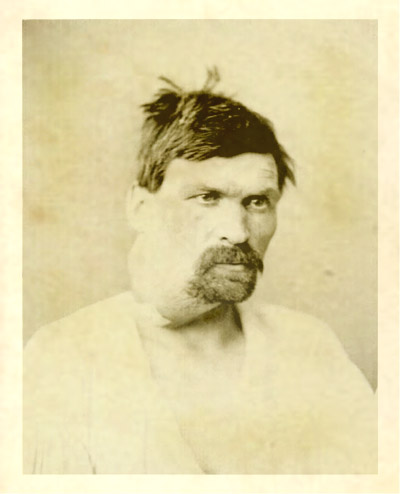 A case of metastatic lymphosarcoma or possibly a case of a much rarer adult primitive neuroectodermal sarcoma that appeared on the neck of a 37 * year old spur-maker. The first surgery to remove the tumor was successful but its aggressive reappearance necessitated a dramatic second operation 6 weeks later during which a facial branch of the external jugular vein – displaced by the tumor – was breached and the patient quickly died on the operating table. Autopsy revealed significant hypertrophy and two masses on the spleen as well as two larger clusters – deux amas ganglionnaires – attached to the mesentery, one of which was highly pigmented and the other yellowish white in cross section. The liver was hyperemic, but nothing was mentioned about the condition of the kidneys. The focus of the paper, however, was on the appearance of air embolisms in the sheared vein as well as in the jugular trunk and in a posterior cardiac vein. A significant quantity of air was also found in one of the heart ventricles, leading Trélat to speculate that his patient died from the induction of arterial air at the point of his incision. However, Trélat was much more equivocal on the cause of death in a second report he published the following year.1

1 Trélat (1872), Mort subite pendant le cours d'une opération, et due au chloroforme ou à l'introduction de l'air dans les veines. Paris: Bulletin de la Société de chirurgie de Paris (P. 85-97). * In this report the age of the patient is given to be 32.
---

©All rights reserved.