Groupe des myopathies de cause spinale; paralysie infantile.
---
Charcot, Jean-Martin, 1825-1893.
Journal : Revue photographique des hôpitaux de Paris ; vol. 4.

Paris : Adrien Delahaye, 1872.

Description : [3 l.] pl., 1-6 p., 36-47 p ; ill.: 3 phots., 1 fig. ; 24.5 cm.

Photographs : 3 albumens mounted to printed leaves.

Subject : Anterior horns — Poliomyelitic paralysis.

Notes :


Author caption: Leçon faite par M. Charcot, à la Salpêtrière (juillet 1870).
Photo caption: Planche I — Paralysie Infantile/ Forme paraplégique.
Photo caption: Planche II — Paralysie Infantile/ Forme Généralisée, No. 1.
Photo caption: "Planche III — Paralysie Infantile/ Forme Généralisée, No. 2.
Republished: Oeuvres complètes. Vol. 2, 1894; pages 163-187.
Reference: Charcot & Joffroy (1869), Une observation de paralysie infantile..etc. Paris: Compt rend. Soc. de biol.; 5. s., i, pp. 312-315.
GM 4665: Charcot & Joffroy, (1869)—First demonstration of the atrophy of the anterior horns of the spinal cord in infantile paralysis, confirming earlier suggestions of von Heine and Duchenne.
Translation: Nicoll, H. D. (1872), The Journal of Psychological Medicine. New York: Appleton; vol. vi, pp. 807-818.
Index Medicus: 11004391620.
---
Mais, si je ne me trompe, l'étude qui a le plus contribué à déterminer le caractère des lésions spinales de la paralysie infantile, est celle que nous avons faite l'an passé, M. Joffroy, mon interne, et moi, d'un cas très remarquable, relatif à une femme de mon service nommée Wilson, qui succomba à la phtisie pulmonaire à l'âge de 45 ans. La paralysie, chez rette femme, s'était développée tout à coup, à l'âge de sept ans; elle avait frappé les quatre membres dont la plupart des muscles s'étaient rapidement atrophiés. Les membres d'ailleurs avaient subi un remarquable arrêt de développement et offraient des déformations caracteristiques.—Page 43.
• • •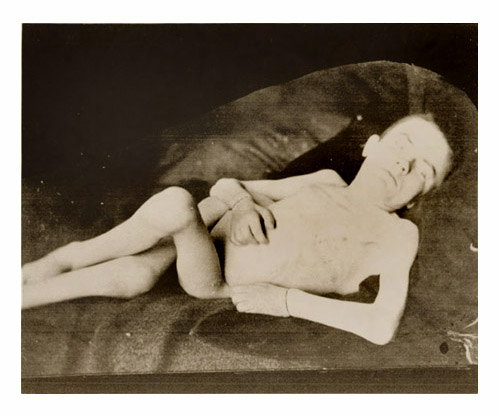 Plates II and III are almost identical in composition—the second image was taken a little closer. They show the same crumpled male patient who is given scant mention in the text and who is meant to be a cumulative representation of Charcot's topic, the variation in symptomology of the poliomyelitic myopathies. Charcot's rich clinical experience and insightful histological observations are provided with a critical review of the literature.
---

©All rights reserved.