Bicephalic Monstrosity — Ischiopagus Tripus.
---
Townsend, Ralph Milbourne, d. Dec. 12, 1877.
Journal : Photographic review of medicine & surgery ; vol. 1., no. 5.

Philadelphia : J. B. Lippincott & Co., 1870-71.

Description : pp. 58-60, [1] pl. ; ill.: 1 photo. ; 24 cm.

Photograph : mounted albumen.

Subject : Teratology — Ischiopagus twins.

Notes :


Author caption: "BY RALPH M. TOWNSEND, M.D., of Philadelphia."
Index Medicus: 10904041740.
---
By reference to the accompanying photograph it will be seen that these babes have a common trunk, terminating at either extremity in a well-shaped neck and head. Each end of the trunk is formed of a perfect thorax with its contained viscera, then comes the swell of the belly, and the children insensibly grade into one another. As they lie extended upon their backs they look as if two children had been cut transversely across at their umbilici, and then accurately welded together.
• • •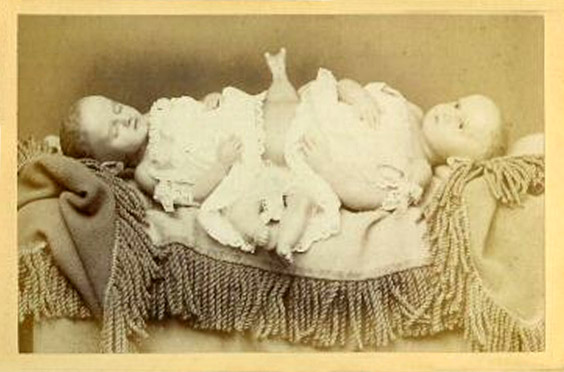 Townsend's omissions are as odd as the dysmorphology he discusses: that of ischiopagus twins Mina and Minnie Finley, whose birthdate and birthplace are given, but not their names. He references a lecture conducted by Dr. F. H. Getchell at Jefferson Medical College, but neglects to mention that another Philadelphia colleague, Dr. William Goodell, also examined the infants and wrote a report for the journal, Philadelphia Medical Times, published on June 15th 1871 and concurrent with Townsend's paper. The albumen photograph above was a token sold to the tourist trade and did not illustrate this report.
---

©All rights reserved.