Dermatolysis—cutis pendula.
---
Keen, William Williams, 1837-1932;
Journal : Photographic review of medicine & surgery ; vol. 2, no. 6.

Philadelphia : J. B. Lippincott & Co., 1871-72.

Description : pp. 45-48, [1] pl. ; ill.: 1 photo. ; 24 cm.

Photograph : mounted albumen.

Photographer : Pierre-Petit.

Subject : Skin — Dermatolysis, Cutis laxa.

Notes :


Author caption: "REPORTED BY W. W. KEEN, M.D., PHILADELPHIA."
Reference: Chèdevergne, Samuel (1864-1866), Molluscum éléphantiasique; énorme tumeur en forme de manteau recouvrant les deux tiers du tronc; déformation du squelette; opération; autopsie: hypertrophie du derme et du tissu cellulaire sous-dermique; courbures anormales de la colonne vertébrale; lésions diverses des organes. Paris: Rec. d. trav. Soc. méd. d'obs. de Par. ; 2. s., i, 2-29.
Eponym: Keen's operation — omphalectomy.
Eponym: Keen's sign — increased diameter of the leg at the malleoli in Pott's fracture of the fibula.
Index Medicus: 11301171290.
---
The following case is compiled partly from my notes taken at the time in the clinic of M. Nélaton, and partly from the report of M. Chedevergne, interne in the Hôpital des Cliniques, Paris, published in the Gazette des Hôpitaux, February 9, 1865. The skeleton, I believe, is in the Musée Dupuytren. The photograph is copied from the original by Pierre Petit, of Paris. — page 45.
• • •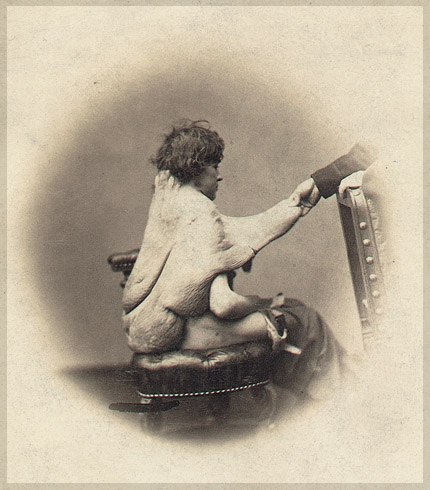 ---

©All rights reserved.