L'attitude et la marche dans l'hémiplégie hystérique.
---
Gilles de la Tourette, Georges Albert Brutus Édouard, 1857-1904.
Journal : Nouvelle iconographie de la Salpêtrière ; vol. 1.

Paris : Lecrosnier et Babé, 1888.

Description : 1-12 p., [2 l.] pl. ; ill.: 2 photo., 10 fig. ; 25.5 cm.

Photographs : 2 phototypes, each of a clinical male subject on crutches.

Photographer : Albert Londe.

Subject : Brain function — Conversion disorders; paralysis.

Notes :


Author caption: GILLES DE LA TOURETTE, Chef de clinique des maladies du système nerveux.
Eponym: Tourette's syndrome — conversion disorder characterised by echolalia, pallilalia and coprolalia.
Cofounder of the Nouvelle iconographie de la Salpêtrière.
Reference: Gilles de la Tourette (1886), Études cliniques et physiologiques sur la marche..etc. Paris: Delahaye et Lecrosnier.
Reference: Babinski, J. (1886), De L'atrophie musculaire dans le paralysies hystériques. Journal: Arch. Neur., vol. xii.
Reference: Todd, Robert B. (1856), Clinical lectures on paralysis, certain diseases of the brain, ..etc. London: John Churchill.
Index Medicus: 11004651070.
---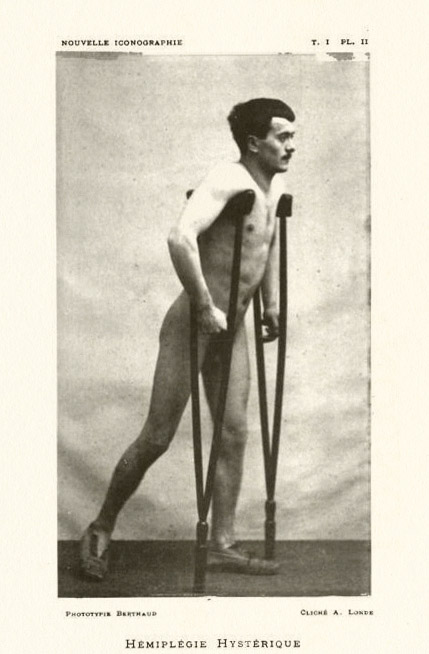 Gilles de la Tourette inaugurated the journal he co-founded with this paper on the gait movement in transient hemiparesis following head trauma. Two male subjects were studied, the first a 47 year-old botanist who was wounded during the disastrous colonising expedition sponsored by the Marquis Du Rays in 1879. The second subject was a 21 year old mason who fell 12 feet from a scaffold. The paper continues a study of gait movement in nervous disorders which Tourette began with his doctoral thesis, promoted by his mentor Charcot and published in 1886.
Plate I
---

©All rights reserved.