Le mascaron grotesque de l'église Santa Maria Formosa, à Venise, et l'hémispasme glosso-labié hystérique.
---
Charcot, Jean-Martin, 1825-1893 ;
Richer, Paul, 1849-1933.
Journal : Nouvelle iconographie de la Salpêtrière ; vol. 1.

Paris : Lecrosnier et Babé, 1888.

Description : 87-92 p., 4 pl. ; ill.: 4 photo. pl., 3 fig. ; 25.5 cm.

Photographs : 4 full page plates, numbered XIII-XVI and 1 in-text photo.

Subject : Tongue — Spastic paralysis; Iconography.

Notes :


Author caption: J.-M. CHARCOT (de l'Institut). PAUL RICHER.
Also issued as an offprint.
Plate XIII—Richer's rendering of a photograph sent by Dr. Richetti.
Republished: Charcot & Richer (1889), Les difformes et les malades dans l'art. Paris: Lecrosnier et Babé.
Index Medicus: 20707781560.
---
Le Mascaron grotesque de l'église Santa Maria Formosa, à Venise, dont nous donnons la reproduction (Pl. XIII), d'après une photographie que nous devons à l'obligeance du docteur Richetti, appartient à l'art de la décadence italienne. — Page 87.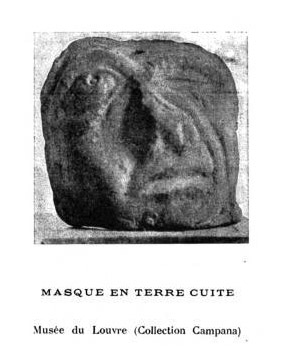 Plate XIII reproduces Paul Richer's drawing of the mascaron keystone situated at the base of the bell tower of Santa Maria Formosa church in Venice. Plates XIV and XV are also photographic reproductions of Richer drawings, his interpretations of a clinical subject who is demonstrating spastic paralysis of the tongue. Plate XVI and the in-text figure 39 are the only photographic subjects. Except for the two clinical drawings, all of the images represent early architectural elements depicting rictus or facial paralysis of some kind.
---

©All rights reserved.