La circulation cérébrale chez l'homme à l'état normal et sous l'influence des substances hypnogènes.
---
Rummo, Gaetano 1853–1917 ;
Ferrannini, Andrea, 1864–1939
Napoli : Tipografia Angelo Trani , 1888.

Description : [1 l.] frontis. pl., [3 l.] p., [1]-69 p., [16 l.] pl. ; ill.: 2 phots., 17 in-text figs., 16 liths. ; 32 cm.

Photographs : composite collotype printed on leaf, two oval head shots of clinical subjects.

Photographer : Fototipia Biondi–Napoli [in the negative].

Subject : Cerebral vessels — Physiology ; pathology.

Notes :
Title text: Laboratorio della Clinica Medica di Napoli diretto dal Prof. Cantani /
Sezione di patologia, farmacologia, e terapia sperimentale affidata al Prof. G. Rummo.
Dedication page to Marey and Mosso.
Author caption: Pel Professore Gaetano Rummo/
Medical degree, Università di Napoli, 1879.
Postgraduate studies under Charcot (1881).
Translated Charcot's work on aphasia into Italian (1884).
Researcher and instructor, Universities of Naples, Siena, Pisa.
Dean, University of Palermo.
Founder, editor, La riforma medica, 1895.
GM-2809: "Rummo's disease" (1898).
Author caption: e pel Dottore Andrea Ferrannini (Assistente).
Nephew and protégé of G. Rummo.
Medical degree, University of Naples.
Postgraduate studies under Richet and Charcot.
Chair, medicine and pathology, University of Camerino, 1907.
Index Medicus: 20206621440 (review).
---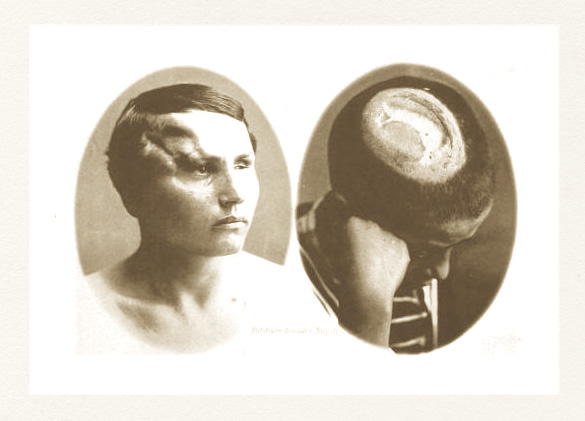 The sixteen lithograph plates are pulsatile recordings, taken with an Angelo Mosso plethysmograph and an Etienne-Jules Marey sphygmograph, modified by the authors for this study. The instruments were fitted to the denuded cerebra of two otherwise healthy male subjects, Francesco Margherita, a 24 year-old mine worker who was knocked off a cliff by an explosive charge, and Giuseppe Gisonda, a 12 year-old boy whose necrotising head wound was caused by a 2 pound clock weight falling from a height of three stories. Concurrent with this study and using the same two subjects, Rummo and Ferrannini researched nocturnal/diurnal brain movements (1879), and the physiology of sleep, published in a paper titled, "La circulation du sang dans le cerveau de l'homme pendant le sommeil" (1891).
---

©All rights reserved.