Atlante della espressione del dolore. Fotografie prese dal vero e da molte opere d' arte che illustrano gli studi sperimentali sull' espressione del dolore.
---
Mantegazza, Paolo, 1831–1910.
Firenze : Giacomo Brogi, 1876.

Description : 1 p. l., [27 l.] pl. ; ill.: 123 phot.

Photograph : 123 albumens on printed leaves.

Photographer : Giacomo Brogi (1822–1881).

Subject : Mimetic muscles — Physiognomy of pain.

Notes :

Author caption: Paolo Mantegazza. Professore d'antropologia nel R. Istituto di studi superiori di Firenze.
Medical training, Universities of Pisa and Pavua.
Acting professor of chemistry, Milan Technical School, 1850.
Private practice, Buenos Ayres and Entrerios, 1854-58.
Military surgeon, War of 1859.
Chair of general pathology, University of Pavia, 1860.
Established first laboratory of experimental pathology in Italy.
Founder, Museo Nazionale di Antropologia e Etnologia di Firenze, 1869.
First chair of anthropology, University of Florence, 1870.
Founder, Società Italiana di antropologia e di etnologia, 1871.
Founder and editor, Archivio per l'antropologia e la etnologia.
Senator, kingdom of Italy, 1876.
Index Medicus: 10805861310, 11003551410, 10405731110 (journal), 11003561700 (journal).
---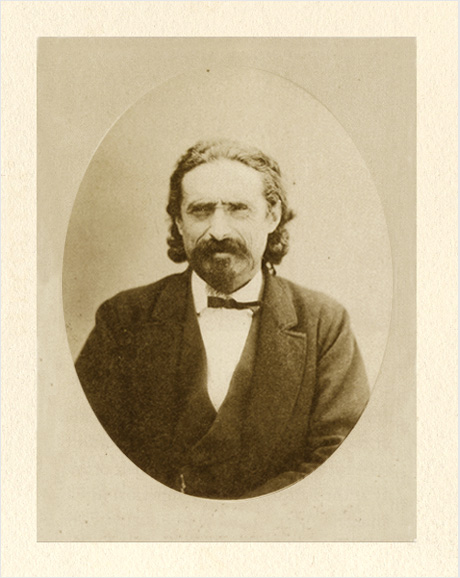 With this atlas complementing his studies on pain, Mantegazza was emulating earlier photographic works of physiognomy by Duchenne and Darwin. Duchenne evoked expression by applying rheophores to the faces of subjects who had diminished or damaged nerve capacity and were therefore anaesthetized to pain. Darwin used studio images that were staged by photographers, but Mantegazza was looking for authentic expressions of agony and so he aggressively applied pincers, bright lights, and loud noises to healthy subjects. In the spirit of scientific equanimity, he subjected himself to the same experiments – the photograph above is Mantegazza. Portraits of a black African model were intended to demonstrate racial differences in the response to pain.
What Broca (v. Broca) accomplished in France, Mantegazza brought about in Italy. He organized the Società italiana di antropologia ed Etnologia and launched its journal, serving as editor and publisher. In Florence, Mantegazza established and chaired the first department of anthropology in an Italian university and gave Italy its first museum for anthropological studies, the Museo di Antropologia e Etnologia. The laboratory he built at the University of Pavia, the first in Italy for experimental pathology, produced Bizzazzero and Golgi. Both Broca and Mantegazza worked the field of liberal politics and both men became senators. Mantegazza achieved great fame for his writings on the physiology and hygiene of love written from an anthropologist's perspective, syncretising science and culture. The first of these, Fisiologia dell'amore, he published in 1854 when he was just 22 years old.
---

©All rights reserved.