L'arte nei pazzi.
---
Lombroso, Ezecchia-Marco ("Cesare"), 1835-1909 ;

du Camp, Maxime, 1822-1894.
Torino & Rome : Ermanno Loescher, 1880.

Journal : Archivio di Psichiatria ; vol. 1.

Description : 424–437 p., [1 l.] pl. ; ill.: 1 phot. ; 25.5 cm.

Photograph : albumen mounted on printed leaf ; reproduction of an artist's drawing.

Subject : Brain — Functional disorders.

Notes :

Author caption: Prof. Lombroso [..]
For Lombroso CV, see: »».
GM-3754: theory of smutty maize as the cause of pellagra.
GM-174, GM-4939: (1876) L'uomo delinquente –doctrine of the "criminal type."
Author caption: [..] e Maxime du Camp.
Student of Jean-Baptiste Gustave Le Gray.
Author, photographer, "Egypte, Nubie, Palestine, Syrie," 1852.
Co-author with Lombroso, "Gli autografi di Troppmann," 1880.
Redaction with photo: "L'uomo di genio," 1882.
Photo caption: Tav. 1.
Provenance: Libreria Antiquaria Giulio Cesare, 2017.
Index Medicus: 10609761100.
---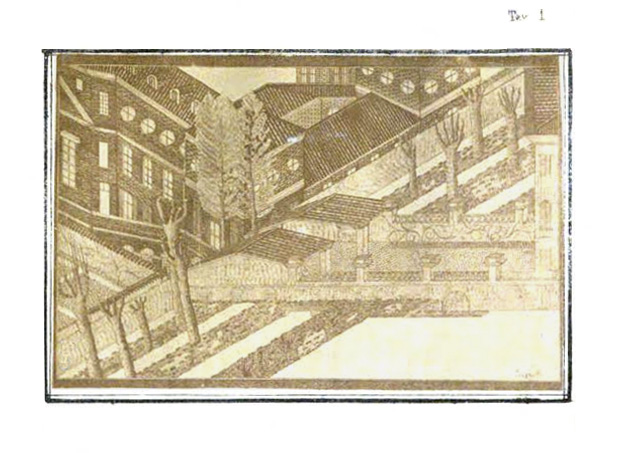 It is unclear what the pioneering French photographer and humanist writer, Maxime du Camp, contributed to this paper, but it was not the photograph. The albumen print reproduces a drawing from Lombroso's collection of asylum art, identified only as the work of a monomaniacal artist who exhibited alongside other artists rejected by the Turin Salon, "[..] esposto fra i rifiutati a Torino" (p. 433: &raquo»). Lombroso is the lead author and it is his voice, his taxonomy and scientific knowledge that subtends the text. Most of the research material was sourced from Italian physicians and asylums, but the Bicêtre hospital asylum in Paris is mentioned, as well as two important studies on the art of the insane, one by the forensic medical scientist, Auguste-Ambroise Tardieu (1872: &raquo»), and the other by Paul-Marie-Maximilien Simon (1876: »»), director of the Blois asylum. Tardieu and Simon both compiled large collections of art by the mentally ill for their research and they forwarded pieces to Lombroso, probably at the behest of du Camp who was well connected through his writings on the asylums and hospitals of Paris (1872: »» & &raquo» ; 1873: »»).
As founder and editor of the Archivio di Psichiatria, Lombroso was intent on advancing his name and theories on moral atavism to France and the world beyond. None better than du Camp to make the necessary introductions, a genial cosmopolitan whose good reputation in Italy was secured by his participation in Garibaldi's 1860 campaign, followed by a memoir of this experience (1861: »»). Maxime du Camp's writings on the prison system of Paris – also rewarded by the perquisites of access and privilege – made him a doubly valuable resource to Lombroso, who had recently published a second edition of his successful magnum opus on the criminal mind (1878: »»). An essay titled, "Gli autografi di Troppmann," published in the inaugural issue of the Archivio, this time with du Camp as lead author and Lombroso the subordinate, was assured a successful Paris reception – both for du Camp's popularity as a chronicler of topical culture, and also for the French public's endless fascination with the psychopathic Jean-Baptiste Troppmann, who was executed by guillotine in 1870 for the butchery of a family of eight. The paper is illustrated with a facsimile of a drawing by Troppmann, procured by du Camp and donated to Lombroso's collection. The drawing depicts the murder scene, shifting blame onto the family patriarch with the inscription, "C'est comme c'est arivé que Kink, le pire misérable qui m'a perda, il a tué toute sa famille." Evidence of du Camp's stature can be found in Turgenev's recounting of the execution of Troppmann, titled, "Kazn' Tropmåna," a not insignificant work in the canon of anti-capital-punishment literature (1897: »»). Maxime du Camp invited Turgenev to join a party of eight "guests" to witness the beheading, spending the night in the warden's compartments and attending the early morning ceremonial dressing of the condemned man in his cell, followed by the march to the guillotine. In 1902, the journal, La Chronique médicale, published two letters by du Camp addressed to Charles-Philippe Robin (1821-1885), histologist and anatomist on the Faculty of Medicine. The first letter provided arrangements for delivering the body of Troppmann for autopsy, and the second expressing his regrets that the Troppmann family was demanding the remains.
Although du Camp's creative efforts were disparaged by the literati class as the mediocrity of a bureaucrat, no description of a fevered mind's descent into oblivion has ever surpassed his elegiac portrayal of the mattoid poet and orientalist, Gérard de Nerval (p. 115-129: »»). Another work, "Mémoires d'un suicidé," is an underestimated and remarkable psychological critique of Romanticism and the period's fascination for spiritual ennui and the phantasms of disordered minds, anticipating Sartre's "La Nausée" by nearly a century (1853, 1855, 1876: »»). A literary thread that connects madness, medicalization, and artistic genius runs through the entire oeuvre of both du Camp and Lombroso, who achieved his first fame with a ground breaking study, "Genio e folie," written on this subject (1864: »» ; »»). Lombroso incorporated both papers, "Genio e folie" and a redacted "L'arte nei pazzi" with its photograph, into his monograph titled, L'uomo di genio in rapporto alla psichiatria, alla storia ed all'estetica (1882: »»). Du Camp's narrative of Nerval as well as other contributions were essential to that work, which quickly ran through multiple editions, including translations into Russian, German (1887: »»), French (1889: »»), and English, (1891: »»).
The name of Maxime du Camp is only indirectly tied to the photograph. So far, no other attribution has emerged. However, the image still holds considerable historical importance as the first published photographic document of the art of the mentally ill (see Hering's photo of Richard Dadd at his easel, for an earlier unpublished example). Formalization of the genre began with Lombroso, but it was the aforementioned Paul-Max Simon, who through his later writings, was able to bring a precision to the iconography (1888: »»). Contrary to Lombroso, however, Simon found no merit in asylum art, only the abortions of incomplete organs, and he regretted the rise in its popularity (1896: »»). There was no stopping the public's engagement, however, and notable exhibitions of asylum art were sponsored in Chicago (1892), Bethlem Royal Hospital (1900), Villejuif asylum (1904). By the 1920's, excitement for exceptional works that were discovered and published by Walter Morgenthaler, Hans Prinzhorn, and others, inspired many visual artists and led to the Art Brut movement. Today, artwork of the mentally ill – terra ignota of aesthetic and semiotic concerns – is a subgenre of outsider art and exerts a growing influence within the Western cultural discourse.
---

©All rights reserved.