Sulla vita e sulle opere di Raffaele Piria, discorso.
---
Cannizzaro, Stanislao, 1826-1910 ;
Piria, Raffaele, 1813-1865.
Torino : Ermanno Loescher, 1883.

Description : [1 l.] pl., [1]-88 p. ; ill.: 1 phot. ; 25 cm.

Photograph : albumen mounted on printed leaf, portrait of Raffaele Piria.

Photographer : (Pietro) Paolo Bertieri.

Subject : Medical biography — Raffaele Piria (1813-1865).

Notes :

Author caption: discorso letto da Stanislao Cannizzaro il giorno 14 marzo 1883 nella Regia Universitŕ di Torino inaugurandosi un busto del Piria.
Protégé of Piria.
Eponym: Cannizzaro reaction.
Author caption: Raffaele Piria.
Medical and surgical degrees: Royal Medical College of Naples, 1834.
Studied chemistry under Jean-Baptiste-André Dumas.
GM-1857: Isolation of salicin.
Discovered and named salicylic acid, 1838.
Professor of chemistry, Tosca University, 1842.
Extraordinary preparator, chemistry, University of Pisa, 1845.
Cofounder, Nuovo Cimento, 1855.
Professor, general chemistry, University of Turin, 1856.
Raffaele Piria medal: quadrennial award of the Italian Society of Chemistry.
Includes bibliographical references.
Photo caption: Raffaele Piria.
Photo caption: Cav., P. Bertieri, Fot. ; (Riproduzione) ; Torino.
Index Medicus: na.
---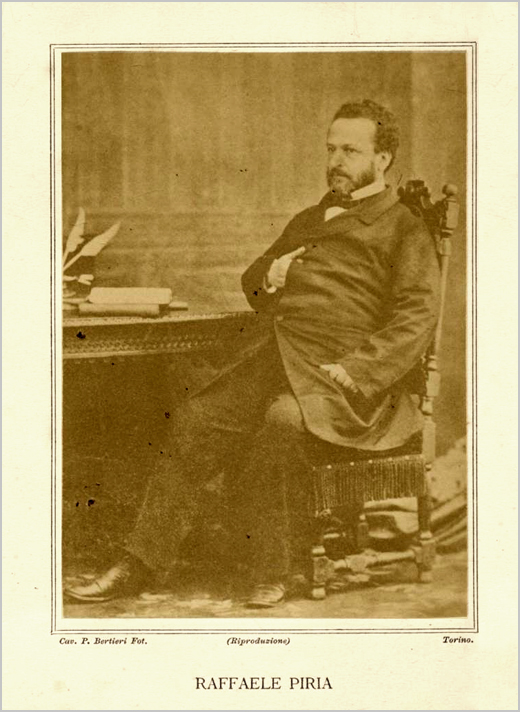 ---

©All rights reserved.