Cannes et son climat.
---
de Valcourt, Jules-Edmond-Théophile, 1836–1919.
Paris : Germer Baillière, 1866.

Description : [1 l.] pl. (fold.), [1]-159 p. ; ill.: 1 phot., tbls. ; 18 cm.

Photograph : panoramic view of Cannes, mounted on folding leaf, with caption.

Subject : Lungs – Diseases ; effects of climate.

Notes :


Author caption: par le Dr. Th. de Valcourt ; Lauréat de la Faculté de Médecine de Paris, Licencié en Droit, Membre de la Société Médicale d'Emulation de Paris, De la Société Météorologique de France, Médecin à Cannes (Alpes-Maritimes).
Doctoral thesis, "Climatologie des stations hivernales du midi de la France," 1864.
German title: "Cannes und sein Klima," 1869.
English title: "Sketch on Cannes and its climate," 1868.
Photo caption (1st ed.): "Vue de Cannes pris du Mont Chevalier."
Index Medicus: 10206911520 (1868 eng. ed.).
---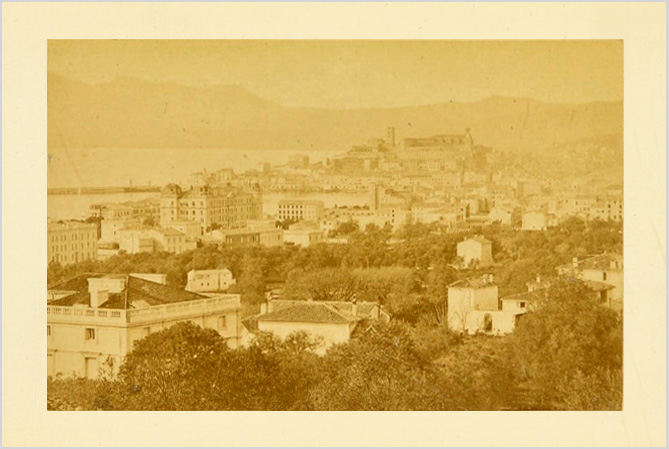 Several formats were put into print for this popular book on the salubrious effects of the Cannes climate. The deluxe first edition came with a folding panoramic view of the seaside resort, but cheaper editions were illustrated with a folding engraved plate. The second augmented French edition came with two separate photographic views, while the French and German second editions–that I have seen–only have one view, shown here. Valcourt was an inveterate promoter of his adopted town at a time when many world class health resorts all competed for the lungs and wallets of well-to-do phthisics. He famously treated Guy de Maupassant after his suicide attempt in 1891.
---

©All rights reserved.